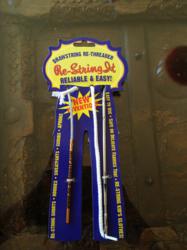 By choosing to make presents this year it allows us to slow down and put some thoughtfulness back into gifting.
(PRWEB) December 13, 2012
In the spirit of Re-String It's philosophy of saving time and money whenever possible, the following gift suggestions are great ways to give a loved one something creative this holiday without going over a set budget. The thought is to start with common household items and then have fun with the design.
Before beginning any craft project, it's advisable to have extra everything on hand as any project could require a few mess-ups before coming out picture perfect. DIY'ers should also allow for additional time in creating these gifts as stress can really take the fun out of the creative process.
"It's easy during the holiday season to get caught up in the buying of gifts," says Re-String It inventor Chad Archibeck. "By choosing to make presents this year it allows us to slow down and put some thoughtfulness back into gifting."
Here are the top five low budget do it yourself holiday gift ideas that Re-String It hopes will inspire people who want to give something crafty a try:
1. Wine Cork Ornaments. By this time of year, wine lovers probably have several corks lying around, or collected in a jar. Here's a great way to put them to use in a decorative way: http://liliannagrace.blogspot.com/2010/11/wine-cork-ornaments.html
2. Stacked bracelets are all the rage. Adding some metal to the string gives them an edgier look and the supplies can be found at a local hardware store, making them even more affordable and adorable: http://blog.shopdirtylaundry.com/posts/2011/7/29/24-the-dirty.html
3. Book of Love from Papervine. It is amazing what they have done with this old deck of 52 cards. And now they have the instructional template for people to make it themselves. All that's needed are a few common items, like a hole puncher and 52 reasons to express love: http://www.papervinenz.com/2011/02/hi-everyone-this-is-last-of-my.html
4. Cinch sacks never looked as cute as this. This bag with a peek-a-boo window designed by Made by Rae would make any boy's holiday wishes come true and can be filled with a variety of goodies: http://www.made-by-rae.com/2010/03/celebrate-boy-archives/
5. Hearts on a string that look like metal but are actually made of flour. Not only is this last suggestion from Smilemonsters on blogspot inexpensive but it can also be a good way to have children help make the gifts while also learning about baking.
Archibeck also suggests keeping one or two of his product around the house for such crafty projects. "Re-String It can be used a tool for many at-home projects due to its flexibility and its durability. Its anodized aluminum material means it won't rust and the flexible body and rigid front guarantee easily and safe travel through any channel."
Re-String It is available for purchase on their website and on Amazon.com. More crafty ideas are shared with their fans who Like them on Facebook.
About the Company:
Re-String It is a product of CWA Enterprises, which was created to bring the perfect must-have domestic tool to market. Re-String It is a heavy duty, versatile re-stringer that is easy to use and won't damage clothing. The rounded edge on the adjustable loop enables use on delicate materials. Visit http://www.re-stringit.com for more information.