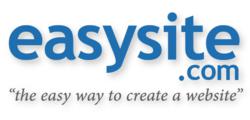 (PRWEB) April 30, 2013
After seeking out the competition for a "do it yourself" website platform that is exclusively for business owners, Easysite decided to bring their expertise to the industry.
Easysite has helped thousands of people create a website, however now they are stepping it up by offering a new business website platform for business owners.
The new professional business platform allows business owners to create a business website that is extremely professional looking in just a few short steps. Most business owners notice that the platform has more capabilities than they might even need such as forums, HD video gallery and much more functionality.
Customers of Easysite report that it's much easier to build their website than other websites, even the ones that claim to be the easy way to create a website.
Easysite understands the importance of a couple things that play a major role in the success of a business owners online business such as social media and search engine friendly web pages. For example, in less than 30 seconds a business owner can add all of their favorite social media buttons to their website and after content is written on any web page, they can also search engine optimize that same web page in less than 30 seconds by adding a page title, meta description and meta keywords. This allows Google to understand exactly what that web page is about; therefore they know how to rank it in the search results.
Easysite offers a "do it yourself" website plan that only cost $19.95/month (no set up charges) and comes with free phone support, video support and email support. With any package, business owners get unlimited hosting and daily backups of their website. Another plan Easysite offers is a "we build it" option which means Easysite developers which reside in the U.S. create a professional logo and website for you. All the business owner has to do is turn in the content to the developers and let them work their magic. This package is currently priced at $995 (a one time fee) and then $19.95/month. To learn more about Easysite.com they invite any business owner to visit their website or call their toll free phone number to speak to an Easysite developer.