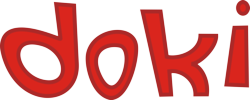 We have had an amazing response to our lottery draws so far and we invite more people to try out these innovative apps and not miss their chance to win!
Nicosia, Cyprus (PRWEB) May 17, 2013
Eazyspeak Ltd, a pioneer in interactive language education, first launched its series of apps for iPhone and iPad in November 2012. Offering both basic and intermediate basic learning of English, French, German, Iberian Spanish and Latin American Spanish, Doki does away with traditional grammar and instead advocates a fun, animated approach to conversational language learning. This unique immersive iOS learning experience is currently available with in-app instructions in 17 different languages.
The Doki language learning apps for iPad and iPhone are designed to help users learn basic words and phrases in their chosen languages, and to equip them with vocabulary and speech used in everyday life through colorful graphics and animations. The entire learning experience is offered through animated, real-life situations which are not only useful, but also provided in a witty and fun environment.
During development, a team of UK educational experts was involved in the evaluation of the app to ensure it was pedagogically sound, and structured in a useful selection of chapters. A total of 51 lessons are divided into 14 chapters in the animated 'Doki' world and learning is centered around key situations such as how to make a hotel reservation, how to book travel arrangements or reserve a table at a restaurant, equipping learners with skills they can make use of immediately, especially when traveling.
Doki also offers two free introductory chapters for every language, allowing users to try before they buy, and users can then purchase sets of chapters or the entire app. There are also Doki Further apps, which are for more advanced level users looking to refresh their knowledge, or for those who have completed the lessons in the basic app.
Jane Kayantas, Director of Doki, says: " In our increasingly globalised world, the demand for learning basic dialogue in foreign languages continues to soar. Our aim with Doki is to make languages more accessible through the use of technology and the familiarity of mobile devices, which enable users to quickly grasp the basics of a language in a fun interactive environment. We also offer a kids' version of each app, designed for children aged 7-14 years, and we have found that this aspect of our application has been hugely popular, as it offers a child-friendly approach with animated characters, no grammar and is a more gentle way to introduce children to learning a new language."
An exciting new announcement today from Doki is the next Doki Lottery, where Doki is giving away prizes to users of the apps!
Users simply need to visit the Doki website and sign up. The latest prize draw started on May 3rd and finishes on May 24th, when the draw will take place in the Doki Studios in Cyprus, and the video of the draw is uploaded on Friday. Two Apple TVs are given away each week, with a total of 8 being given away over the promotional period.
"We have had an amazing response to our lottery draws so far and we invite more people to try out these innovative apps and not miss their chance to win!" says Kayantas.
All users need to do in order to participate, is to purchase one of the Doki language apps, starting from a set of 3 chapters or the entire 14 lessons in the app and they will be invited to participate via the app.
For more information on the Doki lottery, visit http://www.dokispeak.com/lottery.html. All of the Doki apps are currently available for download from the iTunes App
Store at http://www.dokispeak.com/appstore.html.
About Doki:
Doki is a unique modern method of learning the basics on a foreign language without the use of grammar and writing. Through colorful animated scenarios and characters, Doki brings to life a foreign language through real-life situations, humour and interactive exercises. Doki apps available include:Learn English, French, German, Iberian Spanish and Latin American Spanish and apps are available for both iPhone and iPad in 17 different languages. For further information on Doki please visit http://www.dokispeak.com