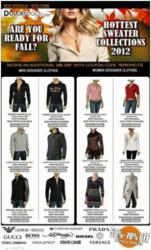 Clothes make the man. Naked people have little or no influence on society.
Mark Twain
October 1, Milan, Italy (PRWEB) October 06, 2011
Giovani Ficca of DolceFugo.com announces new arrivals in designer clothes for Fall/Winter 2011-2012 season. According to the website's newsletter, all major pieces from the latest Fall/Winter collections have been received and are now featured on the site at some rather lucrative prices. The selection should please any lover of designer clothes but this time around it's certainly aiming in a less conservative direction than in previous seasons.
According to the statement published on the site as well as in the newsletter, one is firstly offered to begin by looking at the newest Dolce & Gabbana pieces. These have been carefully selected from the Dolce & Gabbana and the more casual D&G lines. These collections will surely appeal to the fun and sexy girl. Feathered skirts, alphabetized prints and lace up wedge sneakers are youthful and vibrant. And the bright colors are magnificent, very lively and almost capricious, which makes the clothes contrast beautifully with the mood and color palette of the season.
Next, in new designer clothes arrivals, we are invited to take a look at the latest Armani creations. DolceFugo.com buyers have been particularly impressed with the new Giorgio Armani collections and made sure to procure the essential pieces. Light pink colors with predominantly mid-length to sometimes full-length gowns adorned with stones are nothing short of pure elegance. Designer dresses, skirts, pant suits and tops are made in simple silhouettes naturally following and repeating every movement of the body. These are very comfortable, elegant and chic designer clothes for a modern lady. Prevailing fabrics are wool crepe, chiffon, satin and silk with occasional velvet and lurex.
And lastly, DolceFugo.com designer clothes for Fall/Winter 2011-2012 statement sheds some light on the upcoming Grand Season Sale, which will feature Fall/Winter designer clothes and footwear from 2011-2012 collections as well as some select items from previous Fall/Winter seasons. The sale is scheduled to open during the first week of November and will last for 12 days during which DolceFugo.com subscribers will be offered special discounts of up to 75% and all other customers will get 25% off all orders and up to 50% off in some instances. Designer brands that will be on sale are: Gucci, Prada, Versace, Dolce & Gabbana, Armani, Christian Audigier, Roberto Cavalli, Ed Hardy and John Galliano.
For more information on the products, sales and designer clothes in general please do not hesitate to visit the DolceFugo website.
###