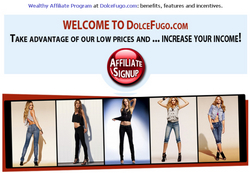 Wikipedia: Affiliate marketing is a marketing practice in which a business rewards one or more affiliates for each visitor or customer brought about by the affiliate's marketing efforts.
(PRWEB) November 18, 2010
With the economic recession increasingly affecting the personal finances of the average North-American family, more and more people are turning to the internet as additional income resource.
Recently, there has been an increase in demand for good affiliate offers on the market. With the arrival of the Web 2.0 a lot of companies have launched affiliate referral programs and are offering great incentives for the internet marketers to promote their goods and services.
Increasing numbers of companies all over the world step onto the affiliate referral program path to sell their products. Most of these companies, have limited or no experience in managing large affiliate stores. The product quality some of these merchants are offering, however, leaves much to be desired, most of the time.
Even though we see an increase of affiliate offers on the market, there is actually shortage of good affiliate associate programs promoting high quality products.
At this particular time, DolceFugo.com wants to make you a Wealthy Affiliate!
DolceFugo.com is a leading online designer clothes and footwear retailer. Our website specializes in predominantly casual clothing by most highly acclaimed Italian designer labels: Armani, Gucci, Prada, Dolce & Gabbana, Roberto Cavalli, Versace. Our catalogue also features extensive selections of Christian Audigier and Ed Hardy apparel.
We are now inviting fashion-oriented websites and blogs to join our affiliate referral program. As a member of the program, you will be able to earn 10% commission on every purchase made by a customer referred by your site or blog.
Benefits offered by our affiliate referral program include:

10% commission on sales (excluding taxes, shipping costs and refunded/returned purchases)
Incremental commissions – higher the order – bigger the commission
free program membership
real time tracking and reporting
sales incentives
As a member of our Wealthy Affiliate program you will promote DolceFugo.com by featuring our links, banners and ads on your site or by simply advertising our affiliate links on blogs, forums and social sites (building or having a website is not a mandatory condition of our Wealthy Affiliate program). You may also choose to feature our weekly press release.
For any further inquiries and to apply for our residual income affiliate program, please visit http://www.dolcefugo.com/affiliate
###