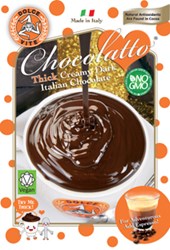 Chocolatto® is Italy's Best Kept Secret!
(PRWEB) December 04, 2013
Due to popular demand Dolce Vite Chocolatto® Best Thick Dark Italian Hot Chocolate is now available online to purchase through the website http://dolceviteforeveryoung.com/products/purchase! Give your loved one a special gift of Chocolatto®, a healthy No GMO, No preservatives, No artificial flavors or ingredients, less sugar, and low caffeine dark chocolate treat! Top with fresh whipped cream or a scoop of gelato for a "Chocolatto® Affogato" a hot & cold taste sensation that melts in your mouth!
Chocolatto® is Italy's best kept secret! Thick Creamy Dark Italian Hot Chocolate, between a mousse and a pudding, eaten with a demitasse spoon in true Italian fashion. Dolce Vite Chocolatto® is velvety smooth, creamy bittersweet chocolate made in Italy with the finest ingredients. Widely touted as an aphrodisiac & medicinal, thick chocolate was the height of fashion in European royal courts. Relive a history of rich luxury with every spoonful of Italian pleasure.
Additionally by eating Chocolatto® you are supporting our Dolce Viten Young Entrepreneurs' success! The Dolce Viten Young Entrepreneur Program is The Premier Young Entrepreneur Program. It is a fantastic opportunity for young entrepreneurs pursuing business to learn about entrepreneurship and earn money in a way relevant to their studies, rather than traditional college & high school jobs. College & high school are not giving students interested in business enough real world tools and we are here to fill that gap. Dolce Vite® is currently accepting applications. Learn more here: dolceviteforeveryoung.com/pages/dolce-vite-young-entrepreneurs.
Dolce Vite Chocolatto®, Stay Forever Young.
About Dolce Vite® LLC
Dolce Vite® is based in Brooklyn, NY and founded by Christina Summers on the principles of the clean-food diet. "Americans are demanding quality food, and Chocolatto® is the pinnacle of the Best Thick Dark Italian Hot Chocolate."
Find out more at dolceviteforeveryoung.com and facebook.com/DrinkDolceVite and twitter.com/DrinkDolceVite and youtube.com/DolceViteNYC.
Chocolatto® Thick Creamy Dark Italian Hot Chocolate Recipes can be found at dolceviteforeveryoung.com/pages/chocolatto-recipes.
View "Chocolatto® is Back!" music video on our website or youtube.com/watch?v=1xSx2XzTXdQ.
View "Sexy Spoon Man Chocolatto® Orange!" youtu.be/E6hx4K1Pogc
Restaurants and cafés interested in carrying Chocolatto® please email sales(at)dolceviteforeveryoung(dot)com or call 917-50-DOLCE (36523).