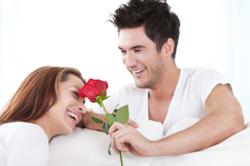 Some of the most iconic sex symbols of all time, John Kennedy, Jr., Steve McQueen, Robert Redford, Paul Newman, and Cary Grant, were all left handed." Melissa Roth, The Left Stuff
San Francisco, CA (Vocus/PRWEB) January 21, 2011
For your Valentine this year, pick a lefty. Among their many advantages over the right-handed majority, left-handers may in fact be better lovers and life partners.
In "The Left Stuff: How the LEFT-HANDED Have SURVIVED and THRIVED in a RIGHT-HANDED WORLD", now out in paperback, lefty writer Melissa Roth makes a strong case for the superiority of left-handers in an astonishing range of skills.
But what do people really want in a lover?
If you're in search of a heartthrob, there are plenty to choose among. Though lefties are only 10-15% of the population, they show up in far higher percentages among famously beautiful and handsome actors. As Roth tells us, "Some of the most iconic sex symbols of all time, John Kennedy, Jr., Steve McQueen, Robert Redford, Paul Newman, and Cary Grant, were all left handed." Though the majority of lefties are men, lefty women stars form an impressive list - Angelina Jolie, Sarah Jessica Parker, Nicole Kidman, Kate Hudson, Julia Roberts, and Scarlett Johanssen, to name a few.
What if athletes turn your key? Studies have shown that athletes have tremendous sex appeal (as well as lots of partners). Lefties are often athletic, and enjoy outstanding success at certain sports – baseball, tennis, ice hockey, soccer, boxing, and fencing, for example. From baseball giants Ty Cobb and Babe Ruth to tennis star John McEnroe, the Brazilian soccer player Pele, and NASCAR legend Dale Earnhardt Jr., the list of lefty athletes at the top of their fields is highly out of proportion to their numbers. Roth takes us through a fascinating set of probable reasons for left-handers' athletic prowess.
But what of ordinary folk? Left-handers are considerably better at reading people's emotions or understanding their partners' body language. Lefties' brains are wired so they tune into non-verbal communication far more than verbal. Among psychiatrists, left-handers are disproportionately represented.
Even more important may be the left-handers' penchant for being both creative and unconventional. In a relationship, this pair of traits can lead to having fun in many ways, including love-making. The same pair help to keep a relationship interesting over the long term – a big advantage when considering a life partner or co-parent.
In the 18th and 19th centuries, there was great prejudice against left-handers. They were not considered to be desirable mates, and their percentage of the population declined. But in the 20th century, as minorities of all types came into their own, the taboos and superstitions about left-handedness largely faded away, and the percentage of lefties began to surge.
If you're lucky enough to have a left-handed Valentine, now is the time to let them know how much you appreciate them! "The Left Stuff", as well as the world's biggest selection of left-handed gifts, is available online at Leftyslefthanded.com, or at Lefty's stores in Pier 39, San Francisco, or The MarketPlace at Downtown Disney, Walt Disney World Resorts, in Florida.
# # #