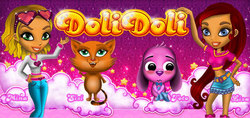 No one can dream up games for girls better than girls themselves.
New York, NY (PRWEB) June 18, 2010
There's no better adviser when it comes to creating a product for kids than, you guessed it, an actual kid. The team behind the newly launched girl games website, DoliDoli.com, believes that the best way to develop fun games for girls is to get direct input from girls all over the world. Does a 10-year-old girl look at a flash game differently than the 30-year-old male programmer that makes that game? Certainly! And does that 10-year-old girl look at the characters, colors and buttons differently than the graphic designer who creates them? Absolutely!
All webmasters who administer websites dedicated to young girls are in fact adults and, surprisingly or not, the majority are male. Creating flash games for girls is a complex process, involving planning, design, development, expensive hardware and software and hours upon hours of testing. But look further than the obvious business aspects and you will see that flash games for girls are basically free toys that girls enjoy playing with on the Internet. When a little girl opens a cooking game, for example, she doesn't really care what Action Script was used to make the game or if the graphics are vectorized or not. She wants to have a fun, colorful, easy to learn and rewarding game.
This is why involving girls in the creation of the games they are about to play online makes perfect sense. However, this hasn't really been done before. The team behind DoliDoli tried to go beyond analytic data and surveys and see what little girls actually expect from the flash games they play. The results were often surprising. Let's take dress up games as an example. Most dress up games being published today have a theme, a number of 20-30 items, a girl to dress up and a background. They're cheap and easy to make and game developers can easily produce dozens of games within a month. But what do girls think? After asking about two dozen girls with ages between 9 and 11 what they think of dress up games the general feedback was that the games are too simple and they get bored playing very quickly, most under a minute or two.
Most girls thought the games should have a better story and an ending – meaning that after the doll is dressed up she should also go somewhere or do something, rather than just standing there wearing her new outfit. Of course, for a flash games developer this means spending a quadruple amount of time developing the game. But what if this risk is worth taking? The DoliDoli team certainly believes it is. Mediocre games for girls will get played quickly and then they'll be forgotten but good or even great games tend to become viral and spread around quickly and effortlessly. Their value can be ten times bigger both for the girls playing them and also for the developers. This has lead to the development of several exclusive DoliDoli games which use many of the ideas suggested by girls during talks with the development team.
# # #