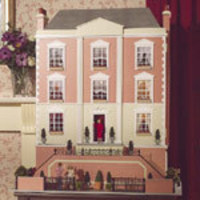 The miniatures we supply are perfect 1:12th scale replicas of the real thing and, when viewed in a miniature room set, can easily be mistaken for full-sized items. This made them ideal props for the new Gulliver's Travels film
(PRWeb UK) November 4, 2010
The land of the Lilliputs and the home of the Houyhnhnms are being brought back to life once more thanks to a new adaptation of Jonathan Swift's classic, Gulliver's Travels – with The Dolls House Emporium helping to bring a little miniature magic to the set!
Starring Jack Black as Lemuel Gulliver, the new 20th Century Fox film, due to be released in December 2010, will follow Gulliver on his numerous travels across many weird and wonderful worlds. From the land of the Lilliputs, where all inhabitants are 1:12th the size of normal human beings, to Brobdinghag where Gulliver finds he is one twelfth smaller than everyone else, the challenge for the set designers was to recreate the unique, but realistic scenery of these countries to help bring the tall – and small – tales of Gulliver to
life!
With over 30 year's experience of designing and supplying 1:12th scale dolls' houses and miniatures, Derbyshire-based The Dolls House Emporium proved to be the ideal partner for providing set builders with perfectly-proportioned small scale props.
"The miniatures we supply are perfect 1:12th scale replicas of the real thing and, when viewed in a miniature room set, can easily be mistaken for full-sized items. This made them ideal props for the new Gulliver's Travels film," explains Jackie Lee, Managing Director of The Dolls House Emporium. "People will be able to see many of these props, and much more, for themselves at a beautiful display in Blenheim Palace this November."
As a large proportion of the movie was filmed at Blenheim Palace in Oxfordshire, home to the 11th Duke and Duchess of Marlborough and the birthplace of Sir Winston Churchill, the Palace has decided to celebrate with a Gulliver's Travels themed Christmas. As well as the many miniature houses on show from The Dolls House Emporium, many of which have been identically decorated to Blenheim Palace, there will also be giant Christmas trees, and the dining table set as it was in the film, complete with a giant's seat and place setting!
The "Gulliver's Travels – a Fairytale Christmas at Blenheim Palace", which will run from the 13th November to 12th December 2010, is included within the palace, park and garden ticket price. However, anyone who is signed up to receive the monthly special offers brochure from The Dolls House Emporium, will be entitled to a discount on this price when they show the November or December brochure on purchase.
"This has been a fantastic opportunity for us to be involved in something a bit different, and we are very proud to have been part of such an amazing project. We can not wait to see the display at Blenheim Palace or the film and we're confident that both will look absolutely fantastic," continues Jackie.
"Over the past few months we have seen an increase in the number of enquiries we are receiving from designers and prop departments who require miniatures for sets. Due to the life-like quality of our products, complete room sets or imaginary scenes can be designed – albeit on a slightly smaller scale – which can save directors and designers both time and money on location hunting, set building and prop purchasing."
Jackie concludes, "Although our core market will remain the young and the young-at-heart dolls' house enthusiast, it is fabulous to see the film, TV and theatre industries thinking creatively and using our products in new and innovative ways. We will continue to provide our products as props and hopefully you will see more of The Dolls House Emporium on the silver screen!"
For further information on the houses and accessories The Dolls House Emporium has to offer or to discuss your prop and design requirements, please visit http://www.dollshouse.co.uk/PRLD8 or call 0845 434 7447 quoting PRLD8/PRDHPU13.
About The Dolls House Emporium
The Dolls House Emporium is the world's leading supplier of dolls' houses and miniature collectables. Based in Derbyshire and trading from 65,000 square foot premises with a retail shop, the company employs over 65 people and distributes worldwide via traditional channels and the Internet, whilst supporting over 400 retailers at home and abroad. The company supplies over 30 precision-made house kits and over 2,500 related accessories, which it promotes through its free 220-page catalogue.
Contact Details
For further information please contact:
Louise Hatton, PR Co-ordinator: + 44 (0)1773 514462
or email: louise(dot)hatton(at)dollshouse(dot)com or visit http://www.dollshouse.co.uk
###