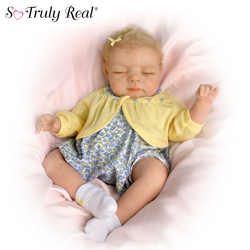 Upholding the high standards of the So Truly Real baby dolls from Ashton-Drake, Brigit Gutzwiller's "Gentle Dreams, Lauren" is destined to bring baby doll lovers what they appreciate most
Niles, IL (PRWEB) May 28, 2011
In an ongoing effort to bring the innocence and beauty of real babies to the world of collectible dolls through the work of important new artists, The Ashton-Drake Galleries Online is proud to introduce the work of a leading European Master Doll Artist, Brigit Gutzwiller. This artist's astoundingly lifelike "Gentle Dreams, Lauren" baby doll is now part of Ashton-Drake's multiple-award-winning line of So Truly Real® baby dolls.
Much like other doll artists who develop a passion for dolls in childhood - and then discover later that they have the rare talent to sculpt dolls as well - Ms. Gutzwiller loves every minute of her life's work. It's not just the sweetness and innocence of a baby's facial features that fascinate her. She also tries to capture the subtle things that babies do, such as body movements and hand gestures, that communicate how babies feel without speaking a word.
"When we first saw Brigit's 'Lauren' baby doll, we knew immediately how distinctive she was," states a product designer from The Ashton-Drake Galleries. "Brigit's ability to create a different personality for each baby, from the angle of the head to the shape of the mouth to the individual gestures in the hands, is simply amazing. When we brought her 'Lauren' doll to life in our SoftTouch vinyl with hand-applied baby hair, hand-painted features and classic infant costuming, the true level of this artist's abilities came shining through."
Upholding the high standards of the So Truly Real baby dolls from Ashton-Drake, Brigit Gutzwiller's "Gentle Dreams, Lauren" is destined to bring baby doll lovers what they appreciate most: the highest level of craftsmanship, combined with a powerful emotional attraction to a baby girl doll who seems almost alive as you pick her up to hold her, so sweetly dreaming, in your arms.
The Ashton-Drake Galleries Online offers one of the best guarantees in the e-commerce marketplace, providing returns for one full year and free return shipping. Visit them at http://www.AshtonDrake.com.
###