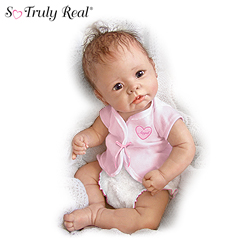 This remarkable baby doll's face, arms and legs are meticulously hand-painted to exactly mimic the skin tones and delicate features of an actual infant
Niles, IL (PRWEB) June 12, 2011
The Ashton-Drake Galleries is delighted to introduce the arrival of their exclusive Little Angel So Truly Real® Lifelike Baby Doll. True to the extraordinary standard set by their entire line of So Truly Real dolls, this exceptional 16-inch long collectible doll is breathtakingly realistic, perfectly capturing the look and feel of a real baby.
Created by award-winning Master Doll Artist Linda Murray, Little Angel is sculpted in Ms. Murray's signature expressive style, and cast in baby-soft RealTouch™ vinyl, a patent-pending material that feels marvelously real to the touch. This remarkable baby doll's face, arms and legs are meticulously hand-painted to exactly mimic the skin tones and delicate features of an actual infant. She has long eyelashes and soft, baby-fine hair applied by hand. She is also completely poseable, further enhancing her expressive charm.
The result is a heartwarming treasure with all the astonishing realism collectors expect of a fine Linda Murray baby doll. Additionally, Little Angel arrives in a custom-designed outfit that includes a pink infant's tee with her name inscribed on a heart-shaped appliqué, and a terry cloth diaper with pink ruffled trim.
Little Angel is accompanied by a Certificate of Authenticity. Collectors, take note: this exquisite baby doll is the premiere issue in Ashton-Drake's Thank Heaven for Adorable Little Girls Doll Collection, and will soon be followed by equally impressive lifelike baby dolls.
The Ashton-Drake Galleries is known worldwide for its finely crafted, multiple award-winning collectible dolls and has been dedicated to "Bringing You Dolls of Irresistible Value" for more than 25 years. They offer one of the best guarantees in the e-commerce marketplace, providing returns for one full year and free return shipping. Visit them at http://www.AshtonDrake.com.
###