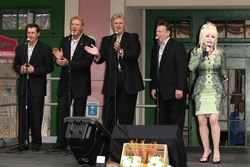 I grew up singing in church where my grandpa, the Rev. Jake Owens, preached, so I have a great love of Southern gospel music which makes this award truly an honor for me
Pigeon Forge, TN (Vocus) September 29, 2010
For the first time ever, the Southern Gospel Music Association's (SGMA) Hall of Fame Induction Ceremony and the Singing News Fan Awards will be presented at Dollywood on Wednesday, Sept. 29, at 3 p.m., marking the official start of the annual National Southern Gospel & Harvest Celebration presented by Humana which continues through Oct. 30 (closed Thursdays).
Dolly will attend the SGMA's Hall of Fame Induction Ceremony and the Singing News Fan Awards to accept the James D. Vaughan Impact Award. Credited as the father of Southern gospel music, Vaughan is credited with establishing the first professional traveling gospel quartet in addition to his extensive music publishing. The award honors those who have made significant contributions to Southern gospel music.
"I grew up singing in church where my grandpa, the Rev. Jake Owens, preached, so I have a great love of Southern gospel music which makes this award truly an honor for me," Parton said. "I'm especially thrilled that Dollywood's National Southern Gospel & Harvest Celebration offers folks an entire month of spiritual music and songs that are so very special and close to my heart."
Beginning at 2:15 p.m., SGMA Hall of Fame inductees and Singing News Fan Awards nominees and performers will participate in a parade of stars, walking a red carpet along Dollywood's Showstreet to DP's Celebrity Theatre where the show takes place.
The SGMA Hall of Fame and Museum opened at Dollywood in 1999.
Tickets for the SGMA Hall of Fame Induction Ceremony and the Singing News Fan Awards are available by calling 865-908-4040.
The day-long events serve as the official kickoff of Dollywood's annual National Southern Gospel & Harvest Celebration, which includes 300 free Southern gospel concerts through Oct. 30. Performing during the monthlong event are Dollywood's award-winning Kingdom Heirs (daily), The McKameys (Oct. 8 & 9), Gold City (Oct. 3 & 4), Guy Penrod (Oct. 22-24), The Bowling Family (Oct. 2 & 4), The Nelons (Oct. 15 & 16), The Florida Boys (Oct. 1 & 3) and many more. Visit Dollywood.com for a complete concert listing. All concerts are included with Dollywood admission (excluding the Singing News Fan Awards).
Dollywood's annual autumn extravaganza also includes the artistry of visiting crafters from across the country, special menu items that celebrate the harvest season and an elaborate display of fall décor.
Dollywood, a 150-acre family adventure park in Pigeon Forge, Tenn., won the Golden Tickets' 2007 Publisher's Pick for best theme park. Open nine months a year (March 27, 2010-Jan. 1, 2011), Dollywood offers more than 40 rides and attractions, including Thunderhead and Mystery Mine coasters. The winner of 15 Big E Entertainment Awards, more than any other park in the world, and two Golden Tickets for Best Shows, Dollywood's live entertainment features country, bluegrass, gospel and mountain music. Plus, a dozen crafters authentic to the East Tennessee region demonstrate daily. Operating days and hours vary. More information is available by calling 1-800-DOLLYWOOD or visiting dollywood.com.
Media: Contact Dollywood Public Relations Manager Pete Owens at 865-428-9486 or powens(at)dollywood(dot)com for B-roll, photography and more information. Check the Dollywood Press Room at http://www.dollywood.com/pressroom.html for updates and new images.
###