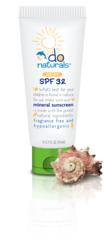 "We did not want to mislead our consumers...while it is 100% natural, non-chemical and non-invasive; it is not at least 70% organic because of the inclusion of the active ingredients.", Ayo Hart co-founder
Pound Ridge, NY (PRWEB) March 27, 2012
Dolphin Organics has expanded its product line to include a new mineral sunscreen offering broad spectrum protection. The SPF 32 sunscreen is part of Dolphin Organics new line of personal care products for the family – DO Naturals. Like the current Dolphin Organics line, DO Naturals formulas are plant-based and start in certified organic aloe rather than water. The line will also be plant-based. "We have an ongoing dialogue with our Dolphin Moms across the country," said Ayo Hart, co-founder of Dolphin Organics. "They have helped us to develop a healthy pipeline of products including our new mineral sunscreen." Dolphin Organics is known for its commitment to truth in labeling. They created the trademark ingredients label classifying each ingredient as Organic, Natural or Artificial to take the guesswork out of rear labels. "We did not want to mislead our consumers by introducing our sunscreen under our Dolphin Organics brand because while it is 100% natural, non-chemical and non-invasive; it is not at least 70% organic because of the inclusion of the natural active ingredients titanium and zinc oxide so we launched our new line DO Naturals," continued Hart.
DO Naturals mineral sunscreen comes at an important time. Spring vacations are underway and parents are becoming more aware of the need to scrutinize label while the tighter regulations for sunscreen labeling announced by the FDA last year go into effect this summer. The Dolphin team formulated their mineral sunscreen to provide the broad spectrum protection families desire. DO Naturals SPF 32 mineral sunscreen is free of parabens, sulfates and other harsh chemicals. It is dermatology tested hypoallergenic and manufactured to meet and exceed the new FDA labeling standards in a FDA regulated facility.
Dolphin Organics announced DO Naturals mineral sunscreen at Natural Products Expo West in Anaheim, CA. The booth was a clear buzz at the show with retail buyers, media and industry members. Hart reports that the sunscreen will hit store shelves mid-April and that her team will begin taking pre-orders on their website April 1.
About Dolphin Organics
Dolphin Organics™ has created two lines of 100% naturally-derived personal care products. The Dolphin Organics™ line is certified to NSF/ANSI 305 by QAI Inc. The products, including shampoo & body wash, conditioner, lotion and bubble bath, are PETA certified cruelty-free and vegan and rate 0 - 1 on EWG's Skin Deep® cosmetic database. The DO Naturals™ line is also formulated with 100% naturally-derived ingredients, and is as organic as possible. DO Naturals™ currently includes a mineral sunscreen offering broad-spectrum (UVA and UVB) protection. Both lines are dermatology tested hypoallergenic. All products are produced in the USA at a facility with more than 25 years of experience in the health and beauty category. Since its launch in June 2011, Dolphin Organics™ has pioneered a new standard for truth in labeling with its innovative ingredients list that makes it easy to see that all Dolphin Organics™ products are truly 100% natural. Dolphin Organics™ is the first to use such transparency on its rear panels. For more information, please call 855-289-3687 x1, visit http://www.dolphinorganics.com or follow on Facebook at http://www.Facebook.com/DolphinOrganics.
###