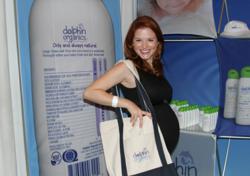 "We created Dolphin Organics to offer safe, effective products that were naturally tear-free and gentle enough for newborns." Ayo Hart, co-Founder of Dolphin Organics
Pound Ridge, NY (PRWEB) January 19, 2012
Dolphin Organics today announced the launch of its new certified organic and natural Simply Citrus™ shampoo/body wash, hair conditioner, lotion and bubble bath. Dolphin Organics gave celebrities an exclusive preview of the Simply Citrus™ line at the 2012 Secret Room Events Golden Globe Awards Style Lounge in Beverly Hills. Celebrities and their guests had a chance to sample Dolphin Organics' new line of naturally fragranced personal care products prior to the awards ceremony. The Simply Citrus lotion was a huge hit.
The company's newly launched line starts with the same certified organic aloe base as the original fragrance free line. All products are certified to NSF/ANSI 305 by QAI Inc.; free of parabens, sulfates and other harsh chemicals; vegan and hypoallergenic. With Simply Citrus, Dolphin Organics™ continues its tradition of raising the bar for truth in labeling by displaying its innovative ingredients label that clearly classifies each ingredient as organic, natural or artificial with a simple three-column design that makes it easy for consumers to decipher. The last column, "artificial," is blank.
"We are excited about the addition to our line of products," said Ayo Hart, who co-founded Dolphin Organics with her husband, Nigel. "We created Dolphin Organics to offer safe, effective products that were naturally tear-free and gentle enough for newborns. However, we have been pleasantly surprised by the numerous loyal customers who share their kids' products or who even purchase them solely for their own use." By adding the natural scents to the line, Dolphin Organics is expanding their customer base and becoming a brand the whole family can enjoy.
Because of the overwhelming reception during exclusive previews, Dolphin Organics announced today they will begin taking pre-orders for the new Simply Citrus™ products. Shipments will begin mid-February. For more information about Dolphin Organics, including pre-order opportunities, visit http://www.dolphinorganics.com/simplycitrus.
About Dolphin Organics
Dolphin Organics is a GMO free line of 100% natural personal care products certified to NSF/ANSI 305 by QAI Inc. The products rate 0 - 1 on EWG's Skin Deep® cosmetic database and have received the PETA seal of approval. Dolphin Organics products are produced in the USA at a facility with more than 25 years of experience in the health and beauty category. The hypoallergenic line is vegan and currently includes shampoo, lotion, bubble bath and hair conditioner. Since its launch in June 2011, Dolphin Organics™ has pioneered a new standard for truth in labeling with its innovative ingredients list that makes it easy to see that all Dolphin Organics™ products are truly 100% natural. Dolphin Organics™ is the first to use such transparency on its rear panels. For more information, please call 855-289-3687 x1, visit http://www.dolphinorganics.com or follow us on Facebook at http://www.Facebook.com/DolphinOrganics.
###