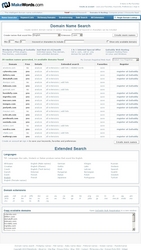 "Finding a suitable domain name is crucial for everyone who is about to start developing an online identity. The quest for good available domains is not easy, it may take significant time and effort
New York, NY (PRWEB) March 22, 2010
MakeWords.com, an advanced domain name search website, launched several search methods that help save time and resources when looking for available domains. With just a few clicks users can easily generate hundreds of random name suggestions, search for niche keywords or combine their business-specific terms with preset wordlists.
"Finding a suitable domain name is crucial for everyone who is about to start developin an online identity. The quest for good available domains is not easy, it may take significant time and effort," said Tauno Novek, CEO or MakeWords. "The goal of MakeWords is to minimize that effort by suggesting hundreds of ideas for available domain names. Since each product or brand has to be unique and memorable, we have recently added several innovative search methods for finding names with custom keywords, wordlists and semantic analysis."
Want to create unique random names that are based on different languages and have available .com or .net domain names? Prefer to digg deeper and take advantage of the more sophisticated research tools like wordlist searches, dictionary domains search; or use the bulk search tools to check up to 100 domain names at a time? With the newly added capabilities, Makewords.com is one of the most versatile free domain search engines on the Internet today.
Some of the key features of MakeWords are:

MakeWords.com domain search is free to use. Users who register gain the additional benefits of saving name ideas to their Favorites list and securely maintain their custom wordlists that can be accessed anywhere. Feedback to the new features is most welcome at our blog.
About MakeWords
Based in New York, MakeWords.com is a privately owned company that uses the latest technologies to create innovative ways for finding available domain names. Our platform of services helps people find unique and memorable name ideas for businesses, products and personal websites. Domain industry professionals and internet marketing agencies save time and money by utilizing our in-depth research features that include dictionary search, custom wordlists, synonyms and semantic relations.
###