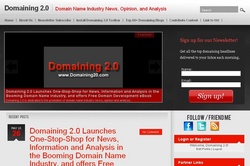 In 2010 we set out to release a next generation information portal with Domaining 2.0 that would be helpful to people following the latest developments in the domain name industry.
New York, NY (PRWEB) May 26, 2010
Scott Carde, founder of the successful domain development franchise Beyond Domaining, and low cost web host and domain name registrar jRegister.com, today unveiled his latest series of services geared towards the domain name industry community. Domaining 2.0 (http://domaining20.com) provides a robust information portal to the world of Domaining, and includes an innovative browser based Domainers Toolbar and Daily Digest email newsletter of the top Domain Name Industry News Headlines. New Daily Digest newsletter subscribers will receive a free eBook from the very popular Beyond Domaining domain development eBook series.
"In 2009 we empowered domainers with Beyond Domaining, our do-it-yourself web site development system, and with jRegister.com, a popular destination for cheap domain name registration and web hosting services. In 2010 we set out to release a next generation information portal with Domaining 2.0 that would be helpful to anyone interested in following the latest developments in the burgeoning domain name industry," says Scott Carde.
Domaining 2.0 syndicates, tags, categorizes, and re-broadcasts news and analysis from the most trusted sources in the domain name industry. Headlines from the leading authorities in the domain name industry at outlets such as David-Carter.com, DirectNavigation.com, DNJournal.com, DNXPERT.com, ICANN, IDNblog.com, MorganLinton.com, and many more can all be found at Domaining 2.0.
Mr. Carde and his team are experts at search engine optimization (SEO) and social networking, and at building online interactive communities. Domaining 2.0 leverages this expertise to provide incremental SEO benefits to Content Partners through advanced tactics such as Keyword, Category, and Tag Stacking. Such tactics help search engines determine the original author of a piece of content which protects original content authors from search engine results page (SERP) link spam.
Domaining 2.0 SEO methods crowd out competing and irrelevant search results from long tail search queries that rightfully belong to domain name industry blog and web site owners.
Users benefit from Domaining 2.0 in four ways: a more robust domain industry information search and browse experience, a daily digest of the top domain name industry news headlines delivered by email each day, a Domainers Toolbar that provides one-click access to common tasks during a domainer's workday, and an open platform for publishing domain name news, thoughts and analysis at any time.
"Our platform is the most flexible. We give complete control to all members of the Domaining community to publish content on our platform. Valued RSS content partners such as DotWeekly.com and UDRPcommentaries.com can choose exactly how much content to syndicate to us. Some partners choose to syndicate intro article excerpts of a limited length, and others choose to syndicate their full posts," says Mr. Carde.
Mr. Carde goes on to say, "We have the flexibility to syndicate as much or as little content as an owner likes, and individual domainers without a blog or web site are welcome to post content on our site right alongside the 'big guys'. They can just go in and sign up for an account, send us their Google AdSense or favorite Domain Name Affiliate Program code, and then begin publishing Domaining content on our site and earning money through Google AdSense almost immediately."
TRAFFIC Conference Co-Founder, and Internet Lawyer, Howard Neu was the first to break the news on Domaining 2.0's launch on his popular blog located at HowardNeu.com. In his blog post titled, "Domaining.com Gets Serious Competition," he says, "the winds of change are blowing" and cites Domaining 2.0 as the "new kid on the block," going on to observe "Domaining 2.0, (Domaining20.com) features each new article that is blogged from the myriad of blogging sources."
As promotion for the new Domaining 2.0 web site, and for a limited time, Domaining 2.0 is offering a Free eBook from Beyond Domaining to new subscribers of the Domaining 2.0 Daily Digest email newsletter.
Beyond Domaining Domain Development eBooks have never been made available to the public for free before, so anyone curious about Beyond Domaining or Domaining 2.0 can take advantage of this opportunity to obtain a free copy of the eBook and a new subscription to the popular Domaining 2.0 Daily Digest. Beyond Domaining eBooks currently sell for $50 each and are perennially one of the most popular paid products in the Domains category in the ClickBank Marketplace.
About Domaining 2.0
Domaining 2.0 is dedicated to the promotion of domain name industry news, opinion and analysis. The brightest names in the industry can be found at the Domaining 2.0 web site, in Domaining 2.0 Daily Digest newsletter, and on the Domaining 2.0 Toolbar on a contributing and syndicated basis. Domaining 2.0 offers a collaborative environment with an open-door policy for all Domainers to syndicate their blog or web site content as an RSS Content Partner, or to publish their thoughts as a Contributing Writer at any time.
About Beyond Domaining
Beyond Domaining offers step by step illustrated guidebooks for rapidly launching powerful web sites. Initially developed for members of the Domaining community looking to earn more money from their domain names than parked pages, Beyond Domaining has been increasingly used by domain name owners and Internet entrepreneurs from all walks of life to launch full blown web sites. At last count, Beyond Domaining was powering nearly 1 million web pages indexed in Google, and it is currently being used to power the Domaining 2.0 web site.
About jRegister.com
jRegister.com offers full service web hosting and domain names at shockingly low prices. jRegister.com offers free one-click installs for all the popular content management systems (CMS), including WordPress, Joomla, Drupal, phpBB, Coppermine, Gallery, MediaWiki, and ZenCart with each new web hosting account. jRegister.com provides award winning 24/7 Free customer service and support.
# # #