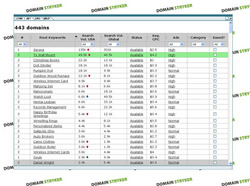 The most important lesson regarding the future of domains can be learned from the past.. Since the dawn of the commercial internet, nothing has unseated the utility of a domain. Nothing happens on the internet without a domain - Frank Schilling, NA Media
New York, NY (PRWEB) May 26, 2010
It was officially announced over the weekend that monthly memberships for Domain Stryker exclusive lists are now available at only $29.99. New members will save over 70% on membership fees.
The DomainStryker.com service is the brainchild of Mike Cohen, a successful serial entrepreneur from New York. Mike has been aggressively buying and successfully reselling keyword domains for 8 years now. In late 2009, Mike Cohen and a few select partners / domain industry insiders officially launched their newest venture, DomainStryker.com! An advanced expiring domain lists aggregator and investment platform with 2-click real-time analysis features.
Where is all the data coming from?
Domain Stryker features expiring auction listings data from 9 of the top 10 domain registrars in the world, which means members get a guaranteed shot at acquiring approximately 90% of the most valuable domains that are expired at wholesale auction prices. Domain Stryker aggregates all of the exclusive domain listings from GoDaddy, eNom, Tucows, Network Solutions, Melbourne IT, Wild West Domains, Moniker, DirectI, Dotster, Fabulous, OnlineNic and dozens of other popular and well established registrars.
Why exactly is Domain Stryker unique?
The Domain Stryker system makes domain discovery process quick and easy. It literally takes 30 seconds at most to determine whether any given domain is worthy or not. Our system filters through tens of thousands of domains that are expired and auctioned off daily, including only the best of the best keyword domains, and in a clean and user friendly setup with the latest and most accurate search volumes and PPC data directly from Google.
Mike Cohen, original founder and leading developer of the DomainStryker.com service says "We don't overload our users with useless data as most aggregators have done over the years in this market… We keep it simple and hope to make the domain discovery experience quick and easy by only including relevant info... At Domain Stryker we only publish the best of the best domains daily in a clean and user friendly setup with the latest and most accurate Google search data to help users identify good expired domains and investment opportunities without having to spend hours in front of the computer looking through random website's outdated statistics!"
Since getting involved with the domain industry full-time in 2004, Mike Cohen has been responsible for some of the most innovative and exciting new service and product offerings in recent years such as DomainMassDevelopment.com which specifically cater to domain professionals as well as up-and-comers in the always evolving multi billion dollar domain industry.
Trial memberships are also available for new members at only $1 for 7 days. Membership access includes 1,000's of listings from SnapNames.com, NameJet.com and GoDaddy.com.
# # #