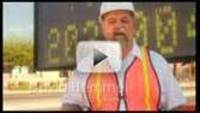 and we're hoping to showcase our work as filmmakers, in addition to getting people to think critically about this election.
Norfolk, VA (PRWEB) October 31, 2008
Voters in the battleground states of Pennsylvania, Virginia, Florida, Ohio, and other swing states have a last-minute opportunity to view two short videos that have been produced to help motivate voters and challenge them think critically about this historic election. Some viewers may be surprised by the messages contained in the films.
While one of the two films has already been widely viewed to date, key battleground state voters may not have had the opportunity to view it. According to Daniel Gourley, president of the VerticalBlu Film Company (VerticalBlu), the first short film was initially produced, "as a marketing piece for VerticalBlu and as a response to another video that was pointed at the republican party." But Gourley also acknowledged that the film has served to help people get facts and think for themselves as they look toward voting. "The lesson we would love for folks to take away is that you can't believe what you hear on TV anymore, and that it doesn't matter necessarily who you vote for, but that you educate yourself on the issues." The films are posted at http://www.whyivotedemocrat.com.
Gourley was surprised to learn the extent of his audience's commitment to promote it. "We didn't expect the level of response from other communities and countries regarding the interest in this video," Gourley said. "Of course, we have equal amounts of people who hate it and love it, but we have also had the movie translated by a young man from the hearing-impaired community, as he read the lips of our actors. He has posted it, with the transcript, on a Blog for the hearing-impaired." According to Gourley, this fan told VerticalBlu that there are 33 million people with hearing disability and he felt they are never adequately reached by the campaigns."
It is not clear how voters in battleground states will react to the films. Experts agree that voters in Pennsylvania, Virginia, Florida, and Ohio are critical to the election outcome. And while these voters, and voters in other swing states will be the focus of national attention, voters in non-battleground states will also be challenged to explore the candidates from a new perspective. In addition to English-speaking voters, the films have also been well received by other voters and by observers in other countries.
"We've even had someone translate our script into Spanish for non-English speakers who want to know what our video is about. It's been posted on Spanish-speaking Blogs as well," Gourley added. "The feedback we've gotten so far is that large numbers of viewers from 21 different countries, including Brazil, Russia and Israel, have seen it." According to Gourley, VerticalBlu's new short films will speak to all types of voters, but he feels that younger voters will be especially able to engage with the films. "To a great degree, I think younger voters accept what the 'media' tells them," Gourley said. "But with the advent of YouTube and other forms of viral marketing, clever, well-produced films like 'I'm Voting Democrat' can really reach an audience and make a difference."
"Our generation is also very good about spreading the word online, so we may see quite a bit of viral activity if these Web users choose to share a link to the URL," he said. Gourley is hoping that his company's other political short film, 'Sen. Obama, I Have One Question...' will gain exposure by being posted on http://www.whyivotedemocrat.com, as well.
"To see the two short films, visitors will have to scroll down the page bit," he added, "since we're promoting a new, non-political film at the top of the page."
VerticalBlu recently acquired the domain name from Penguin Search Engine Services, Inc. (Penguin SES), a Norfolk, Va.-based domain name investment and development company. Terms of the domain name acquisition were not made public. "We are excited to work with Penguin SES in acquiring this very relevant domain name," said Gourley, "and we're hoping to showcase our work as filmmakers, in addition to getting people to think critically about this election."
About Penguin Search Engine Services, Inc.:
Penguin Search Engine Services, Inc. *Penguin SES* http://www.penguinses.com is a niche domain name investment and development company which specializes in acquiring domain names primarily in the areas of technology, healthcare, and emerging trends.
About VerticalBlu Film Company:
http://www.VerticalBlu began making films in fall of 2007 and is a movement based on the belief that great movies don't need to come from Hollywood. By joining together the skills, resources and efforts of like-minded filmmakers, movies can be created that speak to our souls, our lives, and our communities. To find out more how you can invest and participate in VerticalBlu's latest feature "Life in Transit" visit VerticalBlu.com.
###