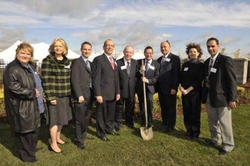 Domaine du Parc is a testament to SNR's commitment to developing first-class projects that are sustainable and environmentally friendly.
Montreal, Quebec (PRWEB) April 19, 2010
The SNR Group (together with affiliates, partners and/or subsidiaries, "SNR") is proud to announce the Grand Opening of Domaine du Parc in Terrebonne, Quebec, the largest sustainable real estate project currently being developed in the Greater Montreal area. Domaine du Parc is the product of over seven years of close collaboration between SNR, as lead developer of development group Heritage Terrebonne, Ducks Unlimited Canada, the Ministry of the Environment of Quebec, the City of Terrebonne and others.
Upon completion, the 400-acre project will include a broad range of housing options weaved into a nature park along the Milles Isles (Thousand Islands) River which is slated to be the largest nature park in Canada located at a city's entrance. The project also consists of over 2.1 million square feet of land zoned for a lifestyle center (already under construction), which includes a recently completed Walmart, as well as a new government-built train station.
The nature park component will be comprised of spawning areas for fish and ducks, a dock area, ice-skating rinks in the winter and over 25,000 ancestral-type trees. Environmental groups will manage eco-tourist recreational areas on the waterfront, which will accommodate boating, swimming and fishing.
Over 250 guests attended the project's celebratory kickoff brunch, hosted by the developers in a grand tent erected on-site for the occasion, including keynote speakers Hon. Lawrence S. Bergman, Member of the Quebec National Assembly and President of the Cabinet Caucus, Hon. Jean-Marc Robitaille, Mayor of the City of Terrebonne, and Bernard Fillion, Director of Ducks Unlimited, Quebec. Mr. Fillion proclaimed that Domaine du Parc would soon be an integral part of Quebec environmental lore, while Mr. Bergman congratulated the developers, the City of Terrebonne and all groups involved for their tremendous vision.
SNR Principal Arthur Steckler described Domaine du Parc as "a testament to SNR's commitment to developing first-class projects that are sustainable and environmentally friendly. Some developers shy away from environmentally sensitive situations, but we believe that the most innovative designs and concepts are often borne out of such scenarios. Domaine du Parc is an excellent example of that."
Domaine du Parc, over 50% of which was sold out to builders within one month of completion of infrastructure, will contribute over 2,000 jobs and $500 million to the Terrebonne economy. Upon completion, the development will be home to over 6,000 residents served by a wide variety of residential options including single-family, duplex, low-rise condominium and townhouse products, as well as waterfront condominiums and seniors housing.
The SNR Group is a developer and manager of a diverse portfolio of prime real estate, including commercial, retail, industrial and residential properties throughout the United States and Canada. From land purchase and assembly to the development of residential communities, office buildings/parks and retail centers, The SNR Group is a proven partner for institutional and private investors on both sides of the border.
###