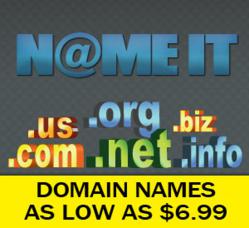 "We are thrilled to be working with NameIT, a true pioneer and leader in the domain name industry, and its customers. Our domain name monitoring services are the perfect proactive and vigilant defense
Fayetteville, NC (PRWEB) July 31, 2012
NameIT, a valued based domain name provider, has established a partnership with Digital Media Monitors LLC to provide brand protection and domain monitoring services to its clients. Digital Media Monitors has the in-house expertise and uses the most powerful domain monitoring tools available so businesses can stay up-to-date on the dynamic domain information they need to legally protect their brand and business. Using proprietary technology and alert systems, customers will be notified of changes that can impact a brand and business as they happen so that NameIT customers can take effective action.
"We are thrilled to be working with NameIT, a true pioneer and leader in the domain name industry, and its customers," says Andrew Hazen, Esq. from Digital Media Monitors. "Our domain name monitoring services are the perfect proactive and vigilant defense against those who attempt to violate your brand and business."
NameIT Domain Monitoring and Brand Protection offers four specific services available to customers to help them protect their brand/company identity from harm. The first is Registrant Alerts, which enables businesses or individuals that register domain names to be alerted whenever your brand name shows up in a whois record for a newly registered, renewed or deleted domain name. The second is Brand Alert, which enables the business to be notified when a word or string of words is used in a domain registration.
The third monitoring feature is the Domain Monitor, which looks at your domains (or another business's domains) and their expiration dates and statuses and notifies you of any changes in status. The fourth feature of the service is NameIT's access to industry experts and attorneys who can assist in disputes, appraisals, and sales of domain names.
"Protecting and monitoring your brand is becoming more and more important as businesses expand online. Partnering with DMM to provide Domain Monitoring and Brand Protection was a must for our customers. With NameIT's new Domain Monitoring & Brand Protection, all of our customers now have the ability to not only monitor and take actions to protect their brands, but will have the ability to find new ways to expand their business as domain names they monitor become available," said Chief Marketing Officer David Green.
NameIT is domain name provider that prides itself on everyday low prices on all major domain extensions through individual and bulk domain registrations. Please visit nameit.net for more information.