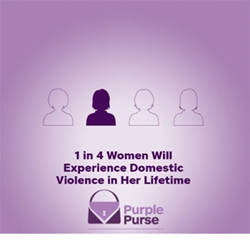 We've learned that one quarter of all women in our country will experience domestic abuse at some point in their lives, and the majority of these women need financial help before they can retake control of their lives
Muskego, WI (PRWEB) September 21, 2016
Schreck Insurance Group, a Wisconsin-based insurance and financial planning agency with offices that serve communities in and around the greater Milwaukee metropolitan area, has joined forces with the Purple Purse Foundation in a cooperative charity drive to assist victims of financial and domestic abuse.
The Purple Purse Foundation recognizes financial abuse as any attempt by the abuser to use money, finances, or physical resources as a means to trap or isolate victims, forcing them to remain in unhealthy or unwanted relationships. Fully 98% of the victims of physical abuse are also victims of financial abuse and are unable to leave the relationship without assistance.
"We've learned that one quarter of all women in our country will experience domestic abuse at some point in their lives, and the majority of these women need financial help before they can retake control of their lives," says Steve Schreck, owner and director of Schreck Insurance Group.
Joined by his professional team, Schreck is actively building an online social media following and launching an email update system to inform local families and community leaders about the Purple Purse charity event. Schreck Insurance Group is also publishing a full page feature article discussing the charity event in the upcoming edition of the agency's online community interest magazine "Our Hometown": http://www.schreckinsurance.com/Our-Hometown-Magazine_41.
More than half a dozen charitable organizations and nonprofit foundations operating in Wisconsin have received direct assistance from Schreck Insurance Group over the last year. These efforts are part of a permanent community involvement program the agency refers to as "Agents of Change." Going forward, the Schreck team plans to continue assisting local charities at the rate of one every other month.
Anyone who wishes to take part in the charity drive to support the Purple Purse Foundation and end domestic and financial abuse is invited to join the Schreck Insurance team and take action to support the cause from this page: http://www.schreckinsurance.com/Removing-The-Shackles-From-Domestic-Abuse-Victims_22_community_cause. Additional information on charities and nonprofits assisted by the Schreck Insurance Group in the past can be found on the agency's Community Causes list: http://www.schreckinsurance.com/community-cause. cx
About Schreck Insurance Group
As a Personal Financial Representative living in New Berlin with his wife, Sonya, and his two children, Steve Schreck knows many local families. His extensive knowledge and understanding of the people throughout the community has been a key factor in helping to provide over 1500 clients with an outstanding level of service. Schreck Insurance Group is dedicated to helping families like yours protect the things that are important – your family, home, car and more. Schreck Insurance is also here to help you prepare a strategy to achieve your financial goals. To speak to a helpful and knowledgeable Schreck Insurance representative, browse to http://www.schreckinsurance.com/ or call (262) 971-0990.