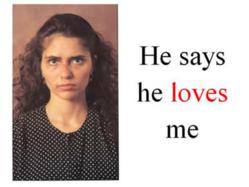 Leaving a relationship is a process that occurs over time. It must be understood that typically a victim cannot do so immediately, and often not for a long time.
Jacksonville, FL (PRWEB) February 17, 2012
Professional Development Resources has announced a new addition to its online continuing education (CE) curriculum for mental health professionals: Domestic Violence: Child Abuse and Intimate Partner Violence. The course, which is presented in two parts, is intended to help mental health professionals maintain a high state of vigilance and to be well prepared with immediate and appropriate responses when partner violence is disclosed.
Part 1 of the course is about child abuse. Part 2 deals with Intimate partner violence (IPV) which is, unfortunately, a pervasive part of life in U.S. society. According to the 2010 National Intimate Partner and Sexual Violence Survey (NISVS), over 35% of women and 28% of men say they have been raped and/or physically assaulted and/or stalked by a current or former spouse, cohabiting partner, or date at some point in their lifetime. Survivors of these forms of violence may experience physical injury, mental health consequences like depression, anxiety, low self-esteem, and suicide attempts. Other health consequences like gastrointestinal disorders, substance abuse, sexually transmitted diseases, and gynecological or pregnancy complications are also common.
The NISVS 2010 report further describes five types of IPV, including sexual violence, physical violence, stalking, psychological aggression, and control of reproductive or sexual health. The latter category includes refusal by an intimate partner to use a condom. For a woman, it includes times when a partner tried to get her pregnant when she did not want to become pregnant. Conversely, for a man, it includes times when a partner tried to get pregnant when the man did not want her to become pregnant. IPV affects individuals from all ethnic and socioeconomic groups, including lesbian, gay, bisexual, transgender, queer, and HIV-affected (LGBTQH) communities.
A very important and sensitive issue is a victim's decision to stay with the batterer in spite of ongoing abuse. To a casual observer, it is hard to understand why a person would choose to stay in a destructive relationship. Victims frequently hear from their friends and family members: "why don't you just leave?" This represents a failure to appreciate the complexity of the problem. According to physicians Rose Fife and Sarina Schrager in their 2012 book Family Violence: What Health Care Providers Need to Know, the decision to leave – or not – is one of the most difficult choices victims will have to make, and possibly the most dangerous.
"Leaving a relationship is a process that occurs over time," says Leo Christie, PhD, licensed marriage and family therapist and president of Professional Development Resources. "It must be understood that typically a victim cannot do so immediately, and often not for a long time. There are many reasons for this: she may think this lifestyle is 'normal'; she may agree with the abuser that she is bad or stupid or deserves this; she may have no idea how to leave or where to go; she may have no job skills and fear that she and her children will starve. But mostly she is afraid, and her fear is valid. A woman's risk of being killed is highest when she tries to leave."
The central purpose of this online CE course is to help clinicians appreciate the likelihood that many of their clients are living in violent relationships, whether they have disclosed it or not. It includes training for detecting abuse when they see it, screening for the particulars, and responding with definitive assistance in safety planning, community referrals, and individualized treatment plans.
About Professional Development Resources, Inc.
Professional Development Resources is a Florida nonprofit educational corporation founded in 1992 by licensed marriage and family therapist Leo Christie, PhD. The company, which is accredited by the American Psychological Association (APA), the Association of Social Work Boards (ASWB), the National Board for Certified Counselors (NBCC), the American Speech-Language-Hearing Association (ASHA), the American Occupational Therapy Association (AOTA), and the Academy of Nutrition and Dietetics (formerly the American Dietetic Association) – as well as many other national and state boards – has focused its efforts on making continuing education courses more cost-effective and widely accessible to health professionals by offering online home study coursework. Its current expanded curriculum includes a wide variety of clinical topics intended to equip health professionals to offer state-of-the art services to their clients.
Contact:
Leo Christie, PhD, CEO
Professional Development Resources, Inc.
904-645-3456
http://www.pdresources.org/
###