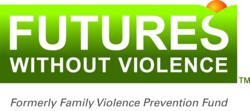 Over the past 20 years, we've seen compelling medical and scientific evidence prove that domestic violence can lead to the most costly health conditions of our time, including heart disease and chronic depression
San Francisco, CA (PRWEB) March 28, 2012
Futures Without Violence presents The 6th National Conference on Health and Domestic Violence, March 29 - 31, 2012 at the San Francisco Marriott Marquis. Featuring new research and innovative health policy, education, and clinical programs, the conference will draw more than 1,000 medical practitioners, social workers, domestic violence experts, researchers, advocates, and educators from around the world who are committed to understanding the devastating impact that violence has on the health of children, teens, adults and communities.
Leading experts will present a range of topics from responding to victims of human trafficking, to the role of technology in preventing teen dating violence, to addressing violence as a major factor in the health and social well-being of the people in the US. Additional workshops focus on military veterans who are victims of intimate partner violence (IPV,) and college campus response to domestic and sexual violence.
•Centers for Disease Control (CDC) present new findings about Domestic and Sexual Violence
•400 speakers present 170 workshops about innovative responses to domestic violence, teen dating abuse, sex trafficking, children exposed to violence and more
•27 medical associations announce a joint commitment to violence prevention
•American Congress of Obstetricians and Gynecologists (ACOG) releases new guidelines about preventing reproductive coercion and birth control sabotage
"Over the past 20 years, we've seen compelling medical and scientific evidence prove that domestic violence can lead to the most costly health conditions of our time, including heart disease and chronic depression, "said Esta Soler, founder and president of Futures Without Violence. "This conference provides an opportunity to share solutions and strategies from some of the world's top health practitioners and advocates."
Conference highlights:
•Opening session with teen violence survivor Johanna Orozco, now Teen Educator at the Domestic Violence and Child Advocacy Center of Greater Cleveland. Shot in the face by her high school boyfriend, Johanna recently discussed her experience with sexual violence, her astonishing recovery and how it motivated her to become a teen advocate, on ABC's "The View" accompanied by Vice President Joe Biden. (Friday, March 30; 8a.m.)
•Dr. Linda Degutis, CDC's Director of Injury Prevention, will present recent National Intimate Partner and Sexual Violence Survey results that find intimate partner violence to be widespread in the US. (Friday, March 30; 9 a.m.)
•Review of new national domestic violence screening guidelines as part of the Affordable Health Care Act and new tools for clinicians. (Friday, March 30; 9a.m.)
•Dating abuse and technology – numerous presentations address teen dating violence. "Practicing Safe Text: Online Strategies to Reach Adolescents" will explore tech abuse and its strong association with physical and sexual violence. Prepares practitioners to recognize and reduce dating abuse such as stalking via technology, breaking into a partner's cell phone or email and more. (Saturday, March 31; 9:50a.m.)
•Engaging men and boys as allies - a review of 'Expect Respect SF,' a successful community collaboration promoting healthy, violence-free dating in all San Francisco public high schools, as well as "Coaching Boys Into Men," a gender-based violence prevention program. (Saturday, March 31; 2:10 p.m.)
•Reproductive coercion - Futures Without Violence and ACOG release new guidelines that recommend strategies for addressing domestic violence and birth control sabotage for use by ACOG's 56,000 members. (Saturday, March 21; 8 a.m.)
•Only event open to the public –Saturday, March 31st - Luncheon performance by Pulitzer Prize nominee Anna Deavere Smith, performing excerpts from Let Me Down Easy, followed by 'Transformers: Risk, Resilience and the Promise of our Teens' a workshop moderated by broadcast journalist Belva Davis with a performance by Changing Lives Youth Theatre Ensemble. Tickets are $60/person and can be purchased online at http://www.nchdv.org/
To view the full conference agenda and workshops:http://www.nchdv.org/agenda.html
About Futures Without Violence
Everyone has the right to live free of violence. Under the leadership and vision of founder Esta Soler for more than 30 years, Futures Without Violence, formerly Family Violence Prevention Fund, has led the way and set the pace for ground-breaking education programs, national policy development, professional training programs, and public actions designed to end violence against women, children and families around the world. In 1994, Futures Without Violence was instrumental in developing the landmark Violence Against Women Act passed by the U.S. Congress. Providing leadership from offices in San Francisco, Washington D.C. and Boston, the organization has established a state-of-the-art international conference and innovation center in the Presidio of San Francisco to foster ongoing dialogue about gender-based violence and child abuse.