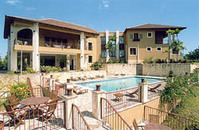 It's good that the site was launched just as the real estate market here is regaining its equilibrium
(PRWEB) April 13, 2011
As the economic market stabilizes, Baby Boomers are looking again for retirement properties, Select Caribbean Properties launched their new interactive real estate website this week providing, a complete resource for buyers and sellers with comprehensive access to the Luxury Dominican Republic Real Estate market.
The site's launch comes at an optimal time,  with the North American housing market  currently showing signs of stabilizing. "We hope buyers, sellers and even current homeowners will find the site to be a handy guide to the  market and the properties available," say brokers Sabine Mertes-Urbahn and Linda Love. The site has been designed with a streamlined user interface and features a wide variety of real estate tools, property listings, community information and other resources.
"It's good that the site was launched just as the real estate market here is regaining its equilibrium," says Select Caribbean Properties. "As a whole, the market in Cabarete and Sosua saw heightened activity during the first quarter of this year, with home prices and the number of home sales greatly improved as compared to the same period last year.
This year the first  Baby Boomers turn 65 and many are looking for lifestyle changes, they are retiring from careers and shifting to part-time employment, volunteer activities or finding full-time work they enjoy. They are "in it" for the joy of the job, fulfillment , the activity and the social interaction.  They start to imagine that it is possible to sit and look at the beach and use the advanced communication tools available to all of us today for doing business.
They are also turning  to the hobbies and activities they love, but had little time to indulge in during full time careers.   Boomers are younger in spirit, healthier and more physically active than previous generations of retirees. They are redefining what retirement is. With the numerous variety of activities available on the North Coast of the Dominican Republic and the easy access with many direct flights from the USA, Canada or Europe, the Boomers desires can take them to an ocean view condo in the Dominican Republic's lush mountainous regions or to a beach front home on the North Coast.
Retirement is a 20th century trend and an evolving 21st century lifestyle and Select Caribbean Properties and their new website can help find this for all Baby Boomers.
###