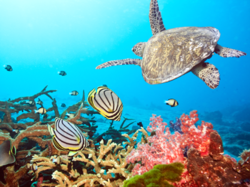 Google +1 Us
(PRWEB) January 05, 2012
Dominican Republic Escorted Tours (DRET) has made it their point in the last three months to make sure that anyone looking for them on the internet can do just that. They have set up a new Google plus one account giving basic information about their company, pictures, videos, along with testimonials about personal experiences from satisfied vacationers.
"We encourage everyone to look at our page and if you believe that our services can help anyone that is looking for a vacation outside of the box, plus one us" said Chris Horner, CEO of DRET.
They already have a Facebook account under Dominican Republic Tours and a twitter handle of tourdominican for vacationers to check out.
Dominican Republic Tours with this company is not an average vacation. You can relax on the beach in the morning and find yourself scaling a waterfall in the afternoon. The variety of different adventure that DRET has in their tours can't be beat.
DRET also gives out discounts for certain occupations. If anyone is in the military then get ready to receive a much deserved discount from the company. "I was in the United States Army for over ten years. My staff and I know the difficulty soldiers endure on a daily basis" said Chris.
They also give discounts for firefighters and police officers.
Looking for an out of the box vacation then look no further because this company can definitely supply this to everyone.
###