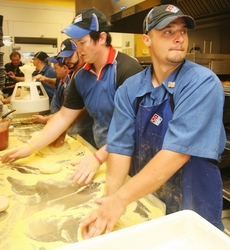 Now we've proved we're also the fastest.
Gulfport, MS (PRWEB) August 12, 2008
When the last orb of pepperoni-sprinkled dough was sold Saturday, August 2nd, Domino's franchise workers at RPM Pizza had made and sold 8,021 pizza pies within 24 hours -- and both the establishment and its head pizza maker were assured spots in the Guinness Book of World Records. RPM Pizza now holds the record for largest amount of pizzas sold in a single day. Donnie Rush made and baked 142 pizzas in one hour to break an individual record.
"We've always maintained that ours is the largest Domino's Pizza franchise," said RPM Pizza President and CEO Glenn Mueller. "Now we've proved we're also the fastest."
To begin the competition, Mueller raised an Australian flag to represent the then-current record holder, an Aussie franchise that turned out 5,382 pizzas on a single day in 2005. Mueller pledged to replace it with an American flag as soon as his shop achieved victory.
By noon, lines snaked around the corner as people braved sweltering conditions to purchase 10-inch pepperoni pies for $2 each. No Domino's pizza coupons were needed. Store manager Donnie Rush, labeled "the fastest pizza maker in the world" by his coworkers, frantically made pie after pie. Fifty employees worked inside and out to help with logistics and to supply the crowd with complimentary cold drinks.
When early evening arrived, the American flag was hoisted onto the flagpole. Donnie Rush had made (and baked) 142 pizzas within the span of one hour to best the former record of 93. And the show wasn't over yet.
"We shipped in emergency cheese and sauce from Louisiana," Mueller said. "We had to keep the effort going!"
About RPM Pizza:
Founded in 1981, RPM Pizza, LLC is the largest Domino's Pizza franchisee in the United States. With stores in Mississippi, Louisiana and Alabama, RPM Pizza employs more than 3,500 team members and growing. As pioneers of the pizzeria industry, RPM Pizza continues to invent tools used throughout the marketplace. These include the Heated Heatwave Hotbag System, the Portable Three-Sided Cartop Sign, a cutter for fresh bread side products, the Domino's Pizza freestanding building, drive-through access and the express store model. RPM Pizza and Domino's Pizza operate under the mission statement, "Exceptional people on a mission to be the best pizza delivery company in world." To learn more about RPM Pizza, visit http://www.rpmpizza.com.
###