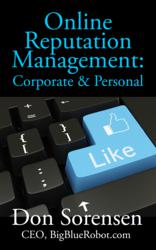 One client of mine had seven negative results on the first page of Google. It took me a year and a half to get nothing but positive content about them on the first page.
Provo, UT (PRWEB) September 20, 2012
Don Sorensen, online reputation management expert and author of "Online Reputation Management: Corporate & Personal" was recently interviewed by Jim Martin of CIO.com for an article outlining 10 Online Reputation Management Tips for Businesses. The article addressed the top ten things businesses need to consider when looking at an online reputation management strategy.
Sorensen recommended in the article that a company's goal should be to diversify its Web presence and to proactively own as many slots in the Google top 10 search results for keywords that relate to the business. "It shows your company's dominance in that topic and also gives you a better chance of keeping negative content about your company or its products out of the top 10," said Sorensen. "You'll never be able to get rid of negative stuff you can't control, but you can at least balance it with positive content you do control."
Sorensen also pointed out that in order to achieve top 10 dominance, a company's Web presence should be spread out among the company's site, related blogs, and social media networks such as LinkedIn, Google+, Facebook Fan pages, YouTube and Twitter. The reason for this, Sorensen stated is that Google's search engine technology views these social network sites as authoritative and trustworthy; both are important factors in how highly content on those sites is ranked.
Sorensen was then quoted as saying, "Be realistic, though. I've never seen a company own everything on the first page of Google results. The only way that might happen is if your company has a truly unique name and there's absolutely nothing else on the Web with that name in it."
Sorensen also shared advice on the topic of getting other sites to link to your company's site with anchor text. Quoted as saying, "The best way is to simply ask others to link to you using keyword-rich anchor text relevant to your business. But don't ask everyone to link to your site using the same anchor text. Google is wise to all the different ways people try to game the system and may demote your content for aggressive anchor-text practices."
Sorensen's advice was also mentioned in the last recommendation of the article under "Don't Expect Miracles" stating, "It's so important to proactively own or at least influence top Google search results because it's extremely difficult to push down negative content when it surfaces. One client of mine had seven negative results on the first page of Google. It took me a year and a half to get nothing but positive content about them on the first page," concluded Sorensen.
Sorensen's expertise and insights have been featured in the New York Times, and other national publications. His firm, Big Blue Robot, was created to improve and manage the online reputation for corporations and their executives.
About Big Blue Robot
Founded in 2003, Big Blue Robot (BBR), helps corporations and high profile individuals improve their online reputations. BBR has developed state-of-the-art online reputation management strategies for companies doing business around the world, including USA, Germany, Canada, New Zealand, United Kingdom, United Arab Emirates, and France.