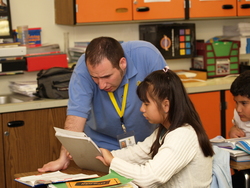 They will be our enduring legacy. They are the leaders of the future, and the quality of education they receive today will directly impact the success and prosperity of our communities tomorrow.
Newport Beach, CA (PRWEB) February 19, 2008
In one of the largest private donations to after-school programs in California history, Irvine Company Chairman Donald Bren announced Monday an $8.5 million gift for the expansion of the THINK Together after-school academic programs in Southern California. The funds will benefit children in Santa Ana and Eastern Los Angeles County school districts.
"After seeing the difficult challenges facing students in these school districts -- including declining enrollment and budget cuts -- I felt compelled to meet the need identified by Governor Schwarzenegger for quality after-school programs and answer Superintendent O'Connell's recent call to create more business partnerships with local schools to expand programs that have proven to be successful," said Donald Bren, whose gift is the continuation of his long-term commitment to quality education in California, a vow that includes more than $100 million of support to K-12 education.
THINK Together is one of the largest providers of after-school programs in the United States, recognized for providing high-quality after-school curriculum for about 20,000 low-income students at more than 180 sites in school districts throughout Los Angeles, Orange, Riverside and San Bernardino counties. With this gift, THINK Together envisions serving about 30,000 children.
"THINK Together is a proven program that delivers results for these young children at a critical time in their educational lives through the collaboration of teachers, school officials and volunteer mentors," continued Bren, a leader in educational philanthropy. "The K-5 years are the formative years during which a student grows the roots of their knowledge base and develops the fundamental academic skills that will chart the course of the rest of their lives."
Governor Schwarzenegger has championed the benefits of after-school programs, noting their importance in providing children with academic support and a safe place to learn.
"I've always been a big believer in after-school programs," the Governor said. "The danger zone for kids is from 1 o'clock to 6 o'clock, because that's when they are often unsupervised. That's when they can get into all kinds of trouble with gangs and drugs, if no one is paying attention to them."
"This funding by Donald Bren will make a substantial positive difference for thousands of students. Facts show that high-quality, well-organized after-school programs help kids do better work in the classroom," added Schwarzenegger. "The students in Santa Ana and Eastern Los Angeles County now have a brighter future because of the guidance they will receive with THINK Together and the opportunity to have something positive and productive to do after school."
This gift continues a long-standing, decade-old commitment by Donald Bren and The Irvine Company to THINK Together. Since 1998, Bren and The Irvine Company have provided financial support and employees have volunteered their time on the board and as mentors. Today's gift increases Bren's total financial giving to after-school programs and THINK Together to $10 million, and extends his educational philanthropy off of The Irvine Ranch to Santa Ana and East Los Angeles County.
"This tremendous gift will allow thousands of low-income students to receive critical academic intervention programs, reading and homework assistance and physical education programs after school, which will help them bridge the achievement gap found in these school districts and will help these students performing at grade-level proficiency," said THINK Together Chief Executive Officer Randy Barth.
These funds will allow THINK Together to facilitate after school programs in every K-5 school in the Santa Ana Unified School District. Three of the top 10 schools in Orange County that experienced the highest increases in Academic Performance Index (API) scores last year were THINK Together schools, including Monte Vista Elementary School in Santa Ana, which experienced the largest increase in API scores in Orange County.
"The students in these school districts need additional resources to truly address the achievement gap that exists today," said Bren. "My goal is for this funding to make a real difference in the lives of these students and the future workforce here in Southern California.
"There is no wiser investment we can make as individuals and as a company than in our children," Bren concluded. "They will be our enduring legacy. They are the leaders of the future, and the quality of education they receive today will directly impact the success and prosperity of our communities tomorrow."
For more information on the THINK Together after-school program or Donald Bren's educational philanthropy, visit The Irvine Company.
About The Irvine Company
The Irvine Company is a 140-year-old, privately held real estate investment company best known for the balanced, sustainable communities it has planned and developed on The Irvine Ranch® in Orange County, California. The company also is known for its portfolio of high-quality, high-profile investment properties -- which include major office buildings, hotels, apartment communities, marinas and retail centers.
###