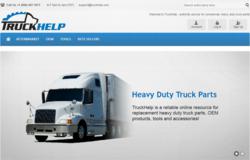 (PRWEB) May 16, 2013
TruckHelp.com, a retailer for commercial trucks and truck parts, is now a licensed and certified dealer of Donaldson filters. With this announcement comes the addition of more than 4,000 Donaldson filters to its searchable online database, including fuel, oil, air and water filters.
As a certified and licensed dealer for Donaldson filters, the staff of TruckHelp.com has expanded its searchable online reference catalog, which offers a unique service to its clients and customers in commercial trucking. The site, which caters to clients requiring heavy and medium duty equipment, also claims customers can save an average of $50.00 per order. As a promotional effort, TruckHelp.com is offering a coupon for a limited time for an additional 5 percent off and is providing free shipping on ground orders of $50.00 or more.
The site allows customers to search from among 4,000 part numbers for Donaldson filters, and will also help clients find the catalog numbers for parts they can't identify. With the addition of a wide range of these filters, the site hopes to expand the use of its service among heavy- and medium-duty truck owners, as well as those operating buses, semis, trailers, forklifts and professional cars.
Donaldson filters provide clean fuel for commercial engines, which reduces wear on pumps used in heavy and medium industrial and professional vehicles. The filters prevent clogged injectors and engine wear while improving fuel efficiency, which can extend the life of these kinds of heavy duty vehicles.
TruckHelp.com's list of Donaldson filters includes more than 70 types of fuel filters, 47 oil filters, 70 fuel filters, and 40 air filters and is expanding every day. The staff assures customers that even if a number isn't listed as available on the site, they can still locate and provide the part.
TruckHelp.com is a Portland, Oregon-based retailer working to become the largest online seller for truck parts and accessories. Since 2011, the company has been offering its online database of truck parts for stocking distributors, owners of repair facilities and fleets. With the addition of Donaldson filters to its stock, the company has simplified the challenge of locating an even wider variety of hard to find parts.
TruckHelp.com offers live customer service inquiries Monday through Friday from 8 a.m. to 4 p.m. (PST). The company's phone number is 1 (800) 407-1071, and can be reached anytime by e-mail at support(at)truckhelp(dot)com.