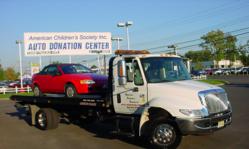 Marlboro, NJ (PRWEB) January 19, 2012
"The American Children's Society helps kids with cancer and disadvantaged families all across the United States, it seems fitting that we also offer our vehicle donation program all across the USA too." said Jacquelin Lauritsen, National Automobile Donation Director of the American Children's Society.
"Our offices in New Jersey, Florida, and the Kansas City metro area have been operating auto donation centers for over 11 years. With the increasing vehicle contributions in those areas, we have decided to expand our operation nationwide with the launch of a new website, Donate A Car For Kids.com."
"Donating a car has been a winning situation for both the donor and the charity for many years. The donor can be eligible for a tax deduction while avoiding the hassles of selling their old car and help good cause all with just one phone call to 1-800-785-6544. Our cars for kids auto donation program is now available nationwide."
"Used car values have been slowly increasing; scrap metal prices are higher today than they were 2 years ago. So whether we sell the vehicle at a retail lot, auction or to a recycling facility, The American Children's Society gains more funds to help those less fortunate."
Founded in 2000, the American Children's Society Inc. was formed for the purpose of improving the lives of children suffering from cancer and disadvantaged families within the United States. We exist entirely on public support, if you want to donate a car for kids, please call 1-800-785-6544.
###