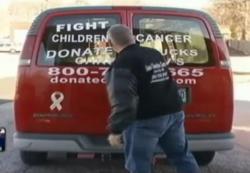 Kansas City - MO (PRWEB) December 28, 2011
Mike Lane, Director of the American Children's Society, which is best known for car donations, helped out a struggling Kansas City area mother and her four young boys.
After loosing her job just a week before Christmas, Ms. Horton has been struggling to provide for her children who range in age from 9 to 2 years old. The furnace broke, the gas was turned off, and then the refrigerator broke, and Christmas was just around the corner.
To prevent the pipes from freezing, the family was heating their home with two space heaters, one in the bathroom and the other in the kitchen. Donate Cars In Kansas City by the American Children's Society Inc. and KB Complete Heating and Cooling are making the necessary furnace upgrades at no cost.
The organization provided help with the furnace repair, paid to have the gas turned back on, a new refrigerator, food, and a Christmas tree (complete with presents) to Crystal Horton and her four sons.
All of this was made possible by generous people that donated their cars to the Kansas City branch of the American Children's Society Inc.
Ms. Horton was overcome with emotion by the organization's generosity in her time of need.
The American Children's Society Inc. Midwest Region accepts car donations in the greater KC area. To see all of the others that have been helped from the "Donate a car in Kansas City" program, click here.
###