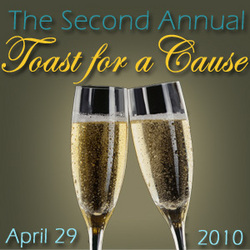 A recognized New Jersey charity since 1981, Tri-County Scholarship Fund is a private, non-sectarian organization that raises scholarship funds for inner-city and other financially disadvantaged children.
Parsippany, NJ (PRWEB) March 10, 2010
The "Toast for a Cause" is a night of charity, networking, and entertainment hosted by Friends of Tri-County Scholarship Fund, a group of young professionals committed to helping provide financial aid to New Jersey students in need. Friends is an auxiliary to the Tri-County Scholarship Fund, a private, non-sectarian, non-profit organization in central New Jersey that raises scholarship funds for inner-city and other financially disadvantaged students in grades K-12.
The Second Annual Toast for a Cause will be held on April 29, from 6:30pm - 9:00pm at the Dolce Hotal and Conference Center (300 North Maple Avenue) in Basking Ridge, New Jersey. Dolce Basking Ridge recently underwent a multi-million dollar re-design that has given the hotel the chic and contemporary feel of New York City. The event provides young professionals an excellent opportunity to network with business leaders while supporting a charity that gives back to the community.
This year's "Toast for a Cause" fundraiser will include an open bar and lavish hors d'oeuvres, which will be served in the midst of elegant and sophisticated surroundings along with a silent auction and a 50/50 raffle. Guests will have the opportunity to hear from successful young professionals who were Tri-County scholars and benefited from the financial assistance that the organization provides. The cost of the event is $50, and all proceeds go to support Tri-County scholarship recipients.
The first ever "Toast for a Cause" was held in November of 2009, and was a tremendous success, reaching many new members, who came out to learn more and support this growing New Jersey charity. Said Gregory Floyd, President of Tri-County Scholarship Fund: "Many hearts and hands contributed the success of this event. We wanted to create an event that was affordable for most, one that would extend the reach of Tri-County to many more people that we hope will get involved in making life better for some of the younger members of our communities. Our gratitude goes to our sponsors and all the Friends of Tri-County who made this night such a success."
If you are looking to donate to a charity in New Jersey, consider attending the "Toast for a Cause" and supporting the Tri-County Scholarship fund. 99% of those students supported by Tri-County graduate high-school, and 96% go straight to college.
*** To register or learn more, call Tri-County Scholarship Fund at 973 984-9600. Please be able to provide the names of all attending. ***
About Tri-County Scholarship Fund:
Tri-County Scholarship Fund, a New Jersey not-for-profit 501 (c)(3) organization, is neither religious nor sectarian. It was founded in 1981 through the leadership of Edward L. Hennessy, Jr. retired CEO of Allied Signal and the Most Reverend Frank J. Rodimer. Alarmed by the decaying public school system and the mounting inequities in educational choice for families in poorer communities, Mr. Hennessy and Bishop Rodimer joined forces to create an organization that would provide scholarship assistance in New Jersey, based solely on financial need, for children to attend private school. Since 1981, almost 27,000 scholarships have been awarded representing over $17 million in Tri-County Scholarship Fund assistance.
###