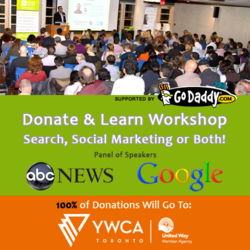 Toronto, Ontario (PRWEB) June 27, 2013
On Tuesday, May 28, 2013, Green Lotus hosted their second "Donate & Learn Workshop" at the YWCA Toronto Headquarters. A sell-out event filling the auditorium at capacity, and now more than $8000 has been raised for the YWCA Toronto.
Keynote speaker Mr. John Shehata, Executive Director of Search & Social Media at ABC News, provided valuable insight into social media engagement for local businesses. Workshop attendees were provided with actionable tips that they could implement immediately, and begin to improve the online presence of their business.
Top 5 takeaways from Mr Shehata's presentation include:
1. Create an Online Presence
Create a business page on Facebook, and other social platforms, and ensure to complete all information requested in order to gain maximum exposure on social networks. Use Google+ and register a local business/place. Having a social presence allows businesses to not only increase online visibility, but also manage online reviews of the business.
2. Engage Fans and Followers on Social Networks
Post simple concise and short updates. Posts with 80 characters gain more engagement than longer posts. Picture sharing on social networks generates more engagement (likes, comments, and shares) than text only posts.
3. Have a Call-To-Action in Social Media Updates
Tell Fans and Followers exactly what to do, for example "Like if you agree, Comment if you disagree". The call-to-action should be within the first 90 characters of the post. Ask questions, inform and get online audiences talking!
4. Tweak Headlines and Descriptions on Facebook
Ensure that any links shared on social networks are relevant to the audience. Tweak headlines and website descriptions on Facebook!
5. Don't Overwhelm Fans and Followers
It is important to maintain engagement with social audiences and post regularly. To avoid cannibalizing previous posts, and overwhelming fans, space social updates out throughout the day (with an average of 2-3 posts per day). Social Updates should not be purely sales based, instead 80% of posts should be centered on engaging fans and followers.
Download the Free Donate & Learn Workshop eBook for more tips on search and social media marketing for business owners.
Green Lotus is planning the next event, a Donate& Learn Expo to be held in November 2013. Based on the response to Donate & Learn Events in the past, the Expo is bound to be a success!
For further information on the Green Lotus Donate & Learn initiative visit http://greenlotus.ca/workshop. For those interested in being sponsors or media partners, contact Bassem Ghali the founder of Green Lotus and the Donate & Learn initiative.
About Bassem Ghali, Founder & Head of Client Strategy at Green Lotus:
Bassem is a search engine marketing strategist and a speaker with experience managing online marketing strategies for some of Canadian's largest corporations including Canadian Tire, Direct Energy, and Toronto Star's NewInHomes.com.
Bassem is the driving force behind Green Lotus and has a knack for creating innovative online marketing strategies for small, medium, and large businesses.
Green Lotus: 1 Yonge Street - Suite 1801. Toronto, Ontario M5E 1E5. Toll Free: 1 800-878-1667