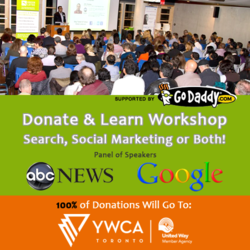 Toronto, Ontario (PRWEB) May 23, 2013
On May 28th at 6 p.m., entrepreneurs, business owners, social media specialists and online marketing professionals can learn cutting-edge search engine and social media marketing strategies while donating to a program that inspires young women to create their own media.
Green Lotus presents the second Donate & Learn Workshop at YWCA Toronto's downtown Elm Centre. Participants will learn how their businesses can take advantage of the integration of search engines and social media platforms. For a tax-deductible donation to YWCA Toronto, attendees will glean insights from speakers John Shehata of ABC News and Sally Chung of Google Canada.
"The concept was simple and pure brilliance! We have all paid a fee to attend marketing workshops and seminars in the past, but the idea of a workshop that is free with a donation supporting such a great cause, is just inspiring," said John Shehata, ABC News Executive Director of Search & Social Media.
All donations will go to the Miss Media program, which is run by YWCA Toronto's Girls' Centre and supported by the Canadian Women's Foundation. Miss Media mentors girls to help them produce their own videos and web content to share their ideas with the world. "For the girls in the Miss Media program, it's a rare opportunity to respond creatively to how poorly girls are portrayed in the media," says Lise Schofield, YWCA Toronto's Manager of Marketing and Communications. "They learn to advocate and take action; it's an inspiring program for girls."
Bassem Ghali, founder of Green Lotus, a creative online marketing company, donates his time to facilitate the workshop, a follow-up to the wildly successful first Donate & Learn held at YWCA Toronto in late 2012. "The YWCA is making a difference in our local communities on a daily basis. Following the success of the first workshop in support of the YWCA Adopt-a-Family program, I knew I wanted the next workshop to also support a YWCA program," says Ghali. "The Girls' Centre is such a great place for young women to explore their dreams and aspirations in a judgment-free supportive environment."
As a presenting sponsor, GoDaddy has community outreach ingrained in its culture. "One of GoDaddy Cares key philanthropic efforts focuses on improving women's lives – that is why supporting YWCA Toronto makes sense," said GoDaddy Executive Vice President Education and Event Marketing Marianne Curran. "GoDaddy is also passionate about helping small businesses get online. Supporting the Donate & Learn Workshop benefits the girls in the Miss Media program and connects world-class speakers with small businesses. We couldn't ask for a better partnership."
Support for the Girls' Centre and Miss Media couldn't come at a better time. Canadian organization Women in Film and Television notes that women make up 4 percent of feature film directors, 11 percent of film writers, and 13 percent of editors. Programs like Miss Media can inspire girls to express their visions for a more diverse media landscape, while helping them build the skills to make those visions reality.
Participants can register for Donate & Learn at http://www.greenlotus.ca/workshop.
Event Details:
Location: YWCA Toronto Headquarters, 87 Elm St. (Bay & Dundas), Toronto ON
Date: Tuesday May 28, 2013 at 6:00 p.m.
Cost: Minimum donation of $20 to YWCA Toronto (tax-deductible)
About YWCA Toronto:
YWCA Toronto helps women and girls achieve equality, economic independence and lives free from violence. YWCA Toronto is dedicated to improving the lives of women and girls. We offer a range of housing options, employment and training programs, family services, girls' leadership and mental health support. We also engage in systemic advocacy.
For information, interviews and photographs:
Lise Schofield, Manager Marketing and Communications, YWCA Toronto
Desk: (416) 961-8100 ext. 326
Cell: (416) 660-9483
Email: lschofield(at)ywcatoronto(dot)org