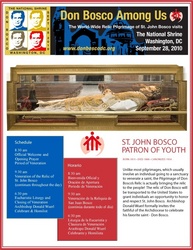 I believe that people who come to venerate the Relics of St. John Bosco and pray to Mary, the one who Don Bosco credited as the foundress of all his works, during the pilgrimage will receive many blessings
Washington, D.C. (Vocus) September 15, 2010
The Salesians of Don Bosco announces the arrival of St. John Bosco to Washington, D.C. This special day will occur on September 28, 2010 from 8:30 a.m. to 7:00 p.m., at The National Shrine in Washington, D.C.
Come see the relic of Don Bosco, the Salesian order creator of the Catholic Church. The event will begin with an Opening Prayer at 8:30 a.m., followed by the Veneration of the Relic of St. John Bosco at 9:30 a.m., which will be open for visitors to see throughout the day, and will conclude at 6:30 p.m. with the Eucharistic Liturgy and closing of the Veneration lead by Archbishop Donald W. Wuerl.
Often times, individuals must go to a sanctuary to venerate a saint. However, the Pilgrimate of Don Bosco's relic is actually bringing the relic to the people. This pilgrimage is making its way through Canada and North America, and is finally coming to Washington, D.C. to celebrate the 200th anniversary of Don Bosco's birth. The Salesians of Don Bosco are grateful to have this saint travel the world for individuals to honor and respect his relic.
Only once in a lifetime will a glass casket weighing over 1,800 pounds, containing a wax replica of the legendary 19th century Saint, travel to 130 nations across the world. His body has been recomposed from his urn, and the bones and tissues of his right hand and arm have been placed within the wax replica of his body.
Don Bosco is known for mirroring the life of Jesus Christ and devoting his special care for the young and abandoned. What separates Don Bosco from all other saints is his unique way of reaching out to the poor and especially to the young who are in search of God.
Beginning his religious journey as a young boy, Don Bosco mastered tricks such as juggling and acrobatics to perform on Sunday afternoons for others in his community. The price of admission was to join in a prayer of the rosary. He instantly became an inspiration and role model toward the community.
The Salesians of Don Bosco bring his relic to the people in hopes that his spiritual legacy carries on among followers and new believers today. Father Steve Shafran of Don Bosco Cristo Rey High School has devoted his time in preparation for this event and is especially excited to have Archbishop Donald W. Wuerl as the Celebrant and Homilist for the Eucharistic Liturgy and closing of the veneration.
"I believe that people who come to venerate the Relics of St. John Bosco and pray to Mary, the one who Don Bosco credited as the foundress of all his works, during the pilgrimage will receive many blessings", said Father Steve.
For more information, please visit http://www.donboscodc.org or contact Janice Ockershausen of Best Bark Media at 202-342-0002.
# # #