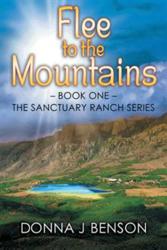 I want to challenge people to walk a faithful and Christ-centered walk and prepare for difficult times ahead both spiritually and mentally.
BIGFORK, Mont. (PRWEB) April 16, 2013
"Nearly five years ago we could see our country changing and we did not like the changes we saw," author Donna J. Benson states. "After much prayer, we felt God guiding us to prepare for difficult times. We could see Christians being blamed for problems in the country citing intolerance, narrow-mindedness, and forcing our view on others." In an attempt to make drastic change in the way things were moving, Benson pens the new Christian fiction, "Flee to the Mountains" (published by CrossBooks).
In "Flee to the Mountains," the United States is on the brink of chaos, with terrorism threats and the persecution of Christians continuing to escalate. Devout Christians George and Elizabeth Hamilton receive a vision from God to prepare for very hard times. When they win the lottery, they know God has given them the green light to start their plans.
The couple establishes Hope Foundation, a nonprofit organization that funds food banks, food kitchens, orphanages and missionaries. They also purchase land in the mountains to establish a sanctuary for believers and begin researching how to become completely self-sufficient. With the help of their new employee, Janie, and their family, the ranch eventually becomes a small community, complete with housing, storage buildings, a medical clinic and a chapel.
When a terrorist strike plunges the world into havoc and Christians are herded into detention camps, the ranch becomes a place of refuge for those being persecuted. The Hamiltons are unprepared for just how many Christians need their help and for the constant conflicts that ensue with so many people in one place.
Will the ranch be able to survive the world in turmoil, or will their perfectly constructed sanctuary be destroyed from within?
"Flee to the Mountains" is a Christian book written from a Christian viewpoint. "I want to challenge people to walk a faithful and Christ-centered walk and prepare for difficult times ahead both spiritually and mentally."
About the Author
Donna J. Benson grew up on an almond ranch in northern California. She has been married to her high school sweetheart, Bob, for nearly 40 years, and they have two children and two grandchildren. The couple drives a semi-truck as a team and travel around the United States and Canada.
CrossBooks, a division of LifeWay Christian Resources of the Southern Baptist Convention, is a Christian publishing imprint committed to bringing more Christian voices into the publishing industry. Established authors, first-time authors, and authors anywhere in between can meet their goals and fulfill their vision for their books by publishing with CrossBooks. CrossBooks' innovative style of publishing blends the best of traditional and self-publishing. While our authors contribute monetarily to cover the cost of publishing, we maintain a strict moral and quality standard that every manuscript must meet for us to publish. For more information on publishing your Christian book with CrossBooks, log on to crossbooks.com or call 1-866-879-0502.