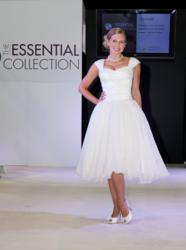 I thought 'I have to do something to help'. I decided to design a really beautiful dress and donate all the proceeds to Breakthrough Breast Cancer
Colchester, Essex (PRWEB UK) 1 October 2012
Donna Allenby of Donna Lee Designs was inspired to create the dress named 'Heathers Hope' after her Mum Heather was diagnosed with breast cancer for a second time in November 2011. "Anyone who has been through a cancer diagnosis knows how shocking it is," says Donna. "It's a fact that one in three of us will experience this and I thought 'I have to do something to help'. I decided to design a really beautiful dress and donate all the proceeds to Breakthrough Breast Cancer."
Donna set about researching ideas for the dress, and finally came up with a stunning vintage design featuring a silk dupion body with layers of silk organza and the iconic pink ribbon set in Swarovski crystals. "My inspiration for the dress finally came after seeing Grace Kelly in Rear Window," says Donna. "I just loved the movement of her dress and wanted to recapture that timeless beauty and elegance."
The dress will be showcased in bridal shops with window displays and events throughout the UK during Breast Cancer Awareness Month in October 2012, and Donna wants to do even more for a cause that is very close to her heart. "Lots of Donna Lee Designs stockists will be holding their own breast cancer awareness days during October and I'm planning to visit all of them to show my support and give my time as a stylist and designer. My mum has just finished her chemotherapy so she is planning to come with me so she can answer questions and talk to people about her own experiences."
As with all Donna Lee Designs' creations, the 'Heather's Hope' dress is bespoke and can be made with or without the crystals, in three-quarter or full length; all proceeds will still go to Breakthrough Breast Cancer.
Donna Lee Designs pink ribbon dress, Heather's Hope will be in bridal stores from October 1.
For more information:
Donna Lee Designs dresses are currently stocked in 32 bridal stores in England and two in Ireland
Find out more about Donna Lee Designs at http://www.donnaleedesigns.co.uk. To speak to Donna Allenby telephone 0845 5191797 or email info (at) donnaleedesigns (dot) co.uk
Editor's Notes:
Breast Cancer Awareness Month takes place from 1-31 October 2012
Breakthrough Breast Cancer is a charity dedicated to saving lives by finding the causes of breast cancer and improving detection, diagnosis, treatment and services.
In 2011 alone, the money raised through Breakthrough Breast Cancer was responsible for ground-breaking research and discoveries by the organisation including:

Finding a new way of killing cancer cells
Scientists discovered a new method of diagnosis
Generations Study data showed that girls' ages at first period getting younger, increasing risk
A test was developed to identify which patients could benefit from a diabetes drug
Three new genes linked to breast cancer were discovered