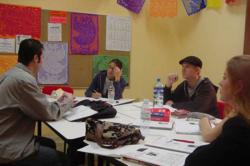 Learning Spanish in Guanajuato is one of the best study abroad values available, but we wanted to do more. So we decided to offer this special 25% discount
Salamanca, Spain (PRWEB) July 20, 2011
don Quijote Spanish Schools, one of the highest quality language school chains in the world, has announced a special promotion for those wanting to learn Spanish in Mexico. The special is available for language classes at the organization's Guanajuato Spanish school. In order to receive the discount, participants need to submit their application by July 25, 2011 but may begin their program at any time before the end of 2011.
More than any other language spoken today, Spanish is among the top choices, especially for those who live anywhere in Canada or the United States. As the Spanish language and Latin American culture continue to be integrated into English and French-speaking North America, the demand to learn Spanish in Mexico and other Central and South American countries continues to grow. This integration is mainly the result of immigration of Spanish-Speakers to their northern neighbors where Spanish is still spoken by a minority of the population. Other issues are a desire to export to consumers in Latin America and the penetration of the internet fostering a global village.
Many people have discovered that Mexico Spanish schools offer high quality academic programs, cultural immersion and shorter travel times than other Spanish-speaking countries. Mexico gives language students the opportunity to explore not only another culture, but also the possibilities of expression that a new language can provide them with. By being immersed in the Mexican culture, students find it is easier to grasp the nuances of communicating in Spanish.
"We understand that people are increasingly hesitant to travel because of the uncertainty caused by the weak economy. Learning Spanish in Guanajuato is one of the best study abroad values available, but we wanted to do more. So we decided to offer this special 25% discount," remarked Pedro Rodriguez, Director of Don Quijote's school in Guanajuato, Mexico.
The immersion programs in Guanajuato include intensive language courses in small groups, the option to live with local Mexican families and school organized activates including visits, Mexican cooking classes, dance classes and sports. Additionally, the school offers volunteer placements and a Medical Spanish program designed for nursing and medical students. Students will find a secure and supportive atmosphere that will allow participants to immerse themselves in Mexican culture and the Spanish language. It also gives them a chance to make brand new friends that could end up being valuable in their careers later.
Those looking to learn more about don Quijote's programs in Mexico, can find information at: http://www.donquijote.com.mx
For 21 years, Don Quijote Spanish schools have been delivering high quality Spanish programs for students of all ages and all levels. Annually, more than 12,000 people from more than 60 countries attend don Quijote Spanish schools throughout Spain and Latin America. More than 15 years ago, Don Quijote shocked the industry by introducing program quality guarantees and the organization continues to adhere to these principles today.
###