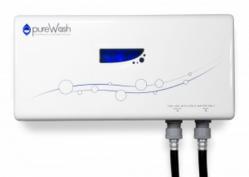 Imagine doing your laundry without hot water and little or no detergent.
Pittsburgh, PA (PRWEB) July 31, 2012
Using the same enhanced oxygen and Photo Catalytic Oxidizers used by respected hospitals and industrial laundries around the globe, GreenTech Environmental has created pureWash, an easily installed appliance designed to work with residential washing machines to eliminate or greatly reduce the need to use environmentally damaging chemicals, abrasive fillers and perfumes to clean clothes and linens.
An environmentally friendly appliance, the pureWash adds enhanced oxygen to the cold water supply, eliminating the cost of heating water. Laundry needs less drying time because there is less water actually left in the fabric after rinsing. Water treated by pureWash aids in cleaning laundry and kills bacteria without leaving residual detergent in the fabric. Many users of traditional laundry systems have discovered they are allergic to the detergents they've used in their traditional laundry systems. The negative impact of detergents on the environment is another problem that has long been recognized. Both concerns can be virtually eliminated by using pureWash, saving money while purchasing peace of mind.
"Imagine doing your laundry without hot water and little or no detergent," said Alan Johnston, President and CEO of GreenTech Environmental. "Use of pureWash saves money by reducing energy costs, improves health and improves the environment. Imagine the changes to the environment if everyone used pureWash. It's incredible"
The pureWash is easy to install and convenient to use. Once properly installed, the pureWash will automatically turn on as soon as the washer demands water for its wash cycle and again for any rinse cycles. A viewing window glows blue allowing the user to see pureWash get to work producing the enhanced oxygenating that does the scrubbing without harmful detergents and abrasives. When the water stops flowing, the pureWash will automatically turn off following a short cool-down period.
To join Don's Appliances and Hillmon Appliance Distributors in saving energy and improving the environment, visit Don's Appliance online showroom at http://www.donsappliances.com today, and the user-friendly Hillmon Appliance Distributors Internet web site at http://www.hillmonappliance.com.