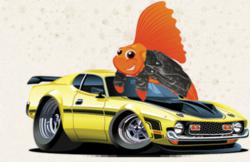 You figure you know your account, you trust him, and you gave him all of the information right off the bat. Why wouldn't it be accurate? The answer is, human error.
New York, NY (PRWEB) March 05, 2012
RoadFish.com men's lifestyle and finance magazine today urged taxpayers who are having their 2011 tax returns prepared by a professional to review the entire document before putting pen to paper to sign. RoadFish.com strongly advised against robo-signing a tax return, or putting one's John Hancock on it before reading it, which could result in heavy financial fines for failure to report accurate information for which the taxpayer is ultimately held liable.
Robert W. Wood of Forbes reported that since the "McKay v. Commissioner of Internal Revenue" case in 1928, U.S. courts have upheld the duty of the taxpayer to read his entire return, if prepared by an accountant or source other than himself, to make sure it is entirely accurate before signing. Further, the tax court maintains that the excuse of being totally dependent on a tax preparer because he or she has full access to the taxpayer's finances, businesses, and other activities does not amount to an acceptable defense for the taxpayer if errors are found in the return.
Jamie Golombek of the Business Financial Post wrote an article about taxpayer Ian Spence, who failed to review his 2006 tax return after it was prepared by H&R Block (Mr. Spence claimed that the refund matched what he'd estimated he would be receiving, so he did not review the document.) When his 2006 return was federally assessed, it was discovered that roughly $36,000 in income had not been reported, as well as another $9,000 in withheld taxes. Spence immediately paid the $124 that he owed to the government as a result, but was later informed that his penalties and interest totaled $7,625 for his "failure to report income." In February 2012, Spence went to court in his third attempt to cancel the $7,625 that he still owes.
RoadFish.com's Senior staff writer is quoted as saying, "It's funny because I doubt any of us would sign a document or form without looking over it to make sure it's all well and good, yet it's crazy how many people I've talked to who will robo-sign their tax return in a heartbeat. I get it—you figure you know your account, you trust him, and you gave him all of the information right off the bat. Why wouldn't it be accurate? The answer is, human error."
The IRS reported that for the 2009 tax return season, 57.7 percent of U.S. taxpayers used paid tax preparers. This includes both accountants who use the "old-fashioned" method of paper filing, and companies such as H&R Block who make it possible to do an entire tax return electronically. With e-filing, the taxpayer and preparer both use PIN numbers that they enter into the system when they file. It is possible for a taxpayer to electronically sign his tax return with his PIN number without actually physically viewing the return. The preparer should in good faith be asking the taxpayer to review the facts and figures to ensure accuracy, but ultimately it is the taxpayer's responsibility to verify that his return is correct. The term "robo-signing" is often used for somebody who signs, physically or electronically, a document without reviewing it first.
RoadFish.com points out that though reading a prepared tax return sounds tedious, "overall it's just so much better to be safe than sorry. Think of the ramifications if something on it is screwed up. Worst case scenario, you owe the IRS big time, which leaves you broke, with a poor credit score, wishing you had just read your darn tax return in the first place."
The above-mentioned Forbes article reports that the U.S. tax law has been in effect since 1913, and further states that courts have ruled on a very consistent basis that it is the taxpayer's duty to thoroughly evaluate their own return for accuracy, and that the excuse "I didn't read it" has not proven to be a successful one.
About Roadfish
RoadFish.com is an online men's lifestyle and finance magazine targeted toward men in their 30s and 40s that have already attained a moderate level of success in life, and are striving toward more. It goes over current events of interest to this group, such things as exciting adventures, consumer interests, heroes, and dating tips, as well as ways to make more and save more money. It is a publication owned by Purpose Inc.
###