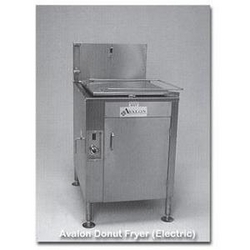 Monterey Park, CA (Vocus) June 29, 2010
Free shipping helps businesses save on transporting purchased products and RestaurantMall.com plays its part in helping clients save on shipping costs. The online depot of cutting-edge donut equipment and other restaurant supplies offers free shipping on selected food and donut equipment that clients can take advantage of. From commercial rice cookers to food slicers, RestaurantMall.com offers a complete line of essential food equipment that even less ommon food service sectors such as donut shops and bakeries will have a chance to shop for the food equipment appropriate for their industry.
For as low as $138.00, customers can purchase 21 gallon capacity ingredient bins. At $95.00, full-sized food warmers are available from RestaurantMall.com. Compact and stainless, food warmers have dials that are easily adjusted, keeping cooked food perfectly warm for hours. The perfect donut equipment costs a mere price of $4.95 – aluminum-made full-sized bun pans that can hold scrumptious donuts and pastries.
Call or email RestaurantMall.com to avail discounts on selected food and donut equipment. Save as much as $2600 on the Legacy Planetary Mixer, for a low price of $8,036.00. With three fixed speeds and gear-driven transmission, this mixer also has a manual bowl lift, bowl guard, and boasts of a ¾ hp. Other restaurant equipment supplies on sale are donut fryers and slicers. Take advantage of these super deals from RestaurantMall.com, with all food and donut equipment at the lowest possible prices.
Specializing in restaurant supplies, RestaurantMall.com is dedicated to deliver unparalleled web shopping experience. Over 20 years of serving the food industry has made RestaurantMall.com an authority in being an online high-quality provider of donut equipment, cooking equipment, beverage equipment and everything the food service industry needs. Simply sign up with the company's newsletter or contact RestaurantMall.com to get price quotes and other order information.
About RestaurantMall.com
Serving the food service industry has been RestaurantMall.com's primary goal for the last 20 years. Specializing in donut equipment, RestaurantMall.com also has a wide selection of cooking equipment, beverage equipment, and other high-quality merchandise provided at the lowest possible prices. With experienced and knowledgeable staff to assist clients, RestaurantMall.com's first priority is client satisfaction. Press release produced by Cybertegic.com - an internet marketing services agency that specializes in search engine optimized press release marketing (SEO marketing).
# # #