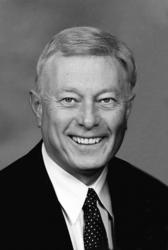 Don is well-deserving of this elite distinction; his over 40 years of contributions and influence have helped shape the healthcare industry into what it is today.
(PRWEB) January 31, 2013
INTEGRATED Healthcare Strategies, a healthcare compensation and human resource consulting firm, today announced that Don Wegmiller, former President and current Chairman Emeritus of the firm, has been inducted into the Modern Healthcare "Health Care Hall of Fame." The recognition program honors individuals who have made outstanding contributions to the healthcare industry in this country and around the world. Wegmiller joins an elite group of other healthcare leaders and visionaries whom have been honored with the distinction.
The "Healthcare Care Hall of Fame" program, which is a joint partnership between Modern Healthcare and the American College of Healthcare Executives (ACHE), has been in existence since 1988. Past awardees include Doctors Charles and William Mayo, founders of the Mayo Clinic; Dr. Michael Debakey, noted international heart surgeon, and fellow 2013 inductees, Dr. Denton Cooley, heart transplant surgeon, and Sister M. Maurita Sengelaub, past president of the Catholic Hospital Association (now the Catholic Health Association) and the first woman to hold that position.
Wegmiller, along with the two other 2013 inductees, will be honored at a ceremony on March 10, 2013 at the Hilton Chicago in conjunction with the American College of Healthcare Executives' 2013 Congress on Healthcare Leadership. Profiles of the 2013 inductees will also be published in the March 11, 2013 issue of Modern Healthcare.
Bob Erra, President of INTEGRATED, praised Wegmiller for his achievements. "Don is well-deserving of this elite distinction; his over 40 years of contributions and influence have helped shape the healthcare industry into what it is today." Erra continued, "From early in his career, Don innovated health system development, pioneering new concepts for multi-hospital systems, and he continues to provide the healthcare industry with insights, ideas and direction through his dynamic and charismatic approach to health care leadership. INTEGRATED has been privileged to have had the benefit of Don's leadership within our organization, and we are proud of this honored recognition of his many achievements! "
In 2012, Wegmiller was elected as Chairman of the Scottsdale Institute, an association of advanced healthcare-delivery systems aimed at sharing best practices for information technology-enabled quality improvement.
A small sample of Wegmiller's past recognitions include: first recipient of the Robert S. Hudgens award; named as one of "Healthcare's 100 Most Powerful People" by Modern Healthcare; awarded the B'nai B'rith National Healthcare Award; and ranking on the "Who's Who in America" and "Who's Who in Healthcare" lists.
A prominent industry advocate and thought leader, Wegmiller is a widely sought speaker and lecturer on healthcare and health policy issues throughout the country and he is a recognized leader in hospital, clinic, and integrated system development and operations improvement. In addition, Wegmiller has been a member of more than 50 professional affiliations.
# # #
About INTEGRATED Healthcare Strategies
For more than 30 years, INTEGRATED Healthcare Strategies has provided consultative services and people-based solutions to clients across the healthcare spectrum, including community and children's hospitals, academic medical centers, health networks, clinics, and assisted-care providers. Our expert consultants and nationally recognized thought-leaders help organizations achieve their business goals by ensuring top talent is attracted, retained, and engaged, while measuring and maximizing human and organizational performance. With tailored solutions that extend well beyond single services, INTEGRATED offers the knowledge, guidance, insights, and alignment that organizations need to not only survive the rapidly changing healthcare environment, but to succeed in it. Exclusive to Healthcare, Dedicated to PeopleSM. For additional information contact Julie McCauley at 800-821-8481 or at julie.mccauley(at)IHStrategies(dot)com. Visit INTEGRATED Healthcare Strategies online at http://www.INTEGRATEDHealthcareStrategies.com. View our blog at http://www.INTEGRATEDHealthcareStrategies.com/blog.