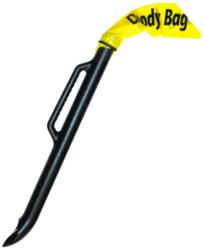 My wife doesn't even mind using it, and the kids actually have fun picking up poop!
Brookfield, WI (PRWEB) April 07, 2011
Dog owners and pet professionals will enjoy mess-free dog waste removal with the new Doody Digger Pooper Scooper. Scoop, then raise vertically to drop poop directly in the attached bag. The Doody Digger's one-handed design and patented shovel end make it simple to reach all the way down to the topsoil even in the tallest grass, without grass damage.
The lightweight Doody Digger weighs only 1.5 pounds, and is made in the USA of recycled high density polyethylene. With no moving parts to break, the one-piece design is highly durability. The design of the Doody Digger's handle makes it easy for people of all heights to use it, including kids with dogs. Polyethylene is a naturally slippery material, which makes the Doody Digger virtually non-stick.
Keith E. Borngesser, inventor of the Doody Digger, said "my wife doesn't even mind using it, and the kids actually have fun picking up poop!" The Doody Digger enables you to pick up poop and bag it at the same time with one simple motion. Just scoop and let gravity do the rest! Since you are not bending over, your nose stays far from the smell.
The Doody Digger comes with five Doody Bags, but any bag can be used, including plastic grocery store bags, flushable bags, and biodegradable bags. The dog waste bag only needs to be replaced when it feels too heavy. Prop up the Doody Digger when not in use, and the weight of the waste will virtually seal the bag until it's time to use it again.
"What most people don't realize is that no matter the breed or health of a dog, canines naturally harbor bacteria in their digestive tracks. These bacteria include e-coli, salmonella and giardia, all of which can be spread through feces and transferred into the ground, living in the soil for up to four years. With that, the simple task of gardening or playing fetch in the yard can result in a very nasty illness." (CityDog magazine, 2011).
Discover what many customers and bloggers are raving about. "It was amazingly easy to use," said DogTipper.com. Now you can easily and effectively get dog poop off any surface and avoid contact with dangerous bacteria. The Doody Digger comes with five bags and one strong rubber O-ring for $14.95 plus shipping. Purchase 40 Doody Bags for $7.95 plus shipping. Order online and join the pooper scooper revolution!
About Doody Products, LLC: Doody Products, LLC, is based out of Brookfield, Wisconsin, with its manufacturing and distribution facility in nearby Jefferson, Wisconsin. It's said that necessity is the mother of invention. Doody Products evolved in 2004 from Keith Borngesser's determination to develop a revolutionary pet product. What he invented is the best pooper scooper in the market, according to many customer testimonials and blogger reviews. Thanks to Doody Products, picking up dog poop is no longer a dreaded chore! Follow Doody Digger on Twitter and visit the website.
###