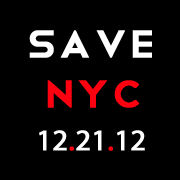 "I think this is a fun opportunity for average people from anywhere in the world to participate in the Doomsday hype that has surrounded 12/21/12. I think 1 million check-ins is hopefully optimistic." Ravi Ramkeesoon, Page Owner .
New York, NY (PRWEB) December 13, 2012
The tongue-in-cheek "Save NYC Campaign" recognizes the end of the Mayan Long Count Calendar on December 21, 2012, a date regularly referred to as "Doomsday." The purpose of this campaign is for average people all over the world to check-in to http://www.facebook.com/DoomsdayNYC to participate in the hype that has long surrounded this day.
Social media has nudged itself into the main stream as search engines on the Internet, as well as print, TV and radio has done before it-becoming a powerful tool for its users to advertise in a non-traditional way. In the past advertising meant purchasing ad space or time, but things have changed. Facebook has determined that the most effective way to promote an item or brand is not through ads, but by having "friends" recommend it. This campaign takes this notion one step further by introducing a new way to advertise, by mass check-ins to an abstract location. The internet is abuzz about the doomsday prophecy, so there is no better time than now to test this theory out. This campaign is meant to be a fun and interesting social media experiment in determining how virality happens through social media.
The Check-ins can be done by anyone, anywhere in the world by clicking the places icon in the status update section of your Facebook page and typing in "Doomsday NYC".
How to do it: (this can be done from anywhere in the world)
Step 1: Click on the places icon on your Facebook page
Step 2: Type Doomsday NYC
Step 3: Tag Your Friends
Step 4: Post
Note: Check-in won't work when using the mobile app for iPhones unless in the Rockefeller Center, New York area. Mobile users (iPhones and Androids) should use their phone's browser to log into Facebook. When prompted to use current location, click "Don't Allow". Then proceed to check into Doomsday NYC.
Ravi Ramkeesoon is the page owner & administrator of the Save NYC Campaign who has years of social media experience.
Will you help spread the word and Save NYC?