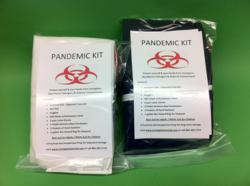 The Center for Disease Control and the World Health Organization predict that a devastating worldwide Pandemic is almost inevitable
Tarzana, CA (PRWEB) April 17, 2012
'Doomsday Preppers', National Geographic's television show about people preparing for the end of the world as we know it, has introduced millions of viewers to scenarios right out of Armageddon; megaquakes, economic collapse, global pandemic, a 2012 cataclysm, nuclear war, solar-flare-induced power failures, or an extreme oil crisis.
ContagionSurvival.com, a recent addition to an already expansive market of online survival companies takes the show seriously and has developed an inexpensive pandemic kit that is affordable for an entire family, or even an entire neighborhood.
"Whether the show scares you or inspires you, 'Doomsday Preppers' leaves you with a sense of insecurity that can only be remedied through an active effort in personal preparedness," says General Manager T. West of ContagionSurvival's parent company FirstAidGlobalWholesale. "Our company has been providing earthquake kits and emergency preparedness supplies for fifteen years, but I never recognized just how vulnerable we would all be during a worldwide pandemic until I became a regular viewer. We've already had a major outbreak of Avian Flu in 2003, and the World Health Organization as well as the CDC predict that a devastating worldwide Pandemic is almost inevitable."
"I recall watching one episode of 'Preppers' where a mother was busy making up her own pandemic kits and then sharing them with her neighbors", Mr. West continues," and she was absolutely right. If you're going to take prepping seriously, it's a good idea to involve your neighbors so that they won't be lining up at your door when disaster strikes. That's why we created a simple pandemic kit for adults or children with N95 mask, zippered isolation suit, goggles, gloves, sanitizers and more, all packed in a gallon-sized baggie. These kits are inexpensive enough to supply every member of your family, or even your entire neighborhood!"
According to a recent poll from liveleak.com, 42% have thought about prepping, 42% think that preppers are crazy, while just 18% are avid preppers. The First Aid Global companies are focused on the 42% who have thought about it but haven't done anything yet. They created PowerSurvival.com to cater to people concerned about power failures or blackouts, and ContagionSurvival.com as a source to purchase a duffle bag filled with professional gear such as full-face and powered air respirators, isolation suits, sanitizers, barricade tape and more.
"It's a personal choice for the 18% to take prepping to such extremes. We certainly don't hope for anything bad to happen, just the opposite. But the real tragedy would be waking up one day to a catastrophe; unprepared and helpless when store shelves are empty and chaos hits the streets. Our own experience with the 1994 Northridge earthquake proves it. 'Preparedness Now' is our motto, 'Peace of Mind' should be yours."
First Aid Global Wholesale is a full-service First Aid, Safety and Emergency Preparedness company in Tarzana, CA that has been in business 15 years providing First Aid Cabinets, Safety Gear and Survival Kits and Supplies. Their line of Earthquake Preparedness Kits have expanded to include customers in all 50 states, including disaster preparedness for tornados, hurricanes, fire and smoke escape, and emergency blackouts or power failures on their new website http://www.PowerSurvival.com. For more information about Pandemics and Contagion Kits, visit http://www.ContagionSurvival.com or call them toll free at 866-305-1753.