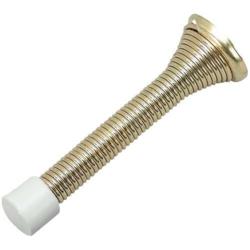 There are 4 main things that are required for the installation: a screw driver, a doorstop, a screw and a pencil
(PRWEB UK) 17 August 2012
Door Handles LTD the exclusive stockist of Dorspec for the UK and Ireland is continuing their weekly renovation tips today by advising their customers how to install a doorstop to prevent damage to their handles for doors and the surrounding walls as this is one of the most common types of incidents that their customers encounter after installing a new door handle. Doorstops are often an afterthought when purchasing a door or door handle and often only considered in hindsight once the damage is already done so Door Handles LTD would like to remind their customers of the benefits of doorstops.
Many environments do not require a doorstop as there is nothing that comes into contact with it and the hinge will prevent the door from opening fully but the issue tends to arise when there is a wall adjacent to the door where it comes into contact when opened fully.
The installation of a doorstop is quite simple. There are 4 main things that are required for the installation: a screw driver, a doorstop, a screw and a pencil.
The first thing to do is to make sure the doorstop actually fits as if it is not long enough it will not prevent the door handle from hitting the wall as door handles come in many different sizes so it is best to measure the size of the door handle before purchasing the doorstop. Once this is done mark where the doorstop should go in pencil.
The baseplate of the doorstop should then be unscrewed and the screw placed in the middle of this area. Use the screw driver to turn the screw on the location that was marked out in pencil in the previous step.
Once the base is secure the remaining part of the doorstop can be attached be screwing into the baseplate and then it´s done! Be sure to give it a test run but keep in mind not to close the door too hard just incase it is not the proper size.
Hopefully by following these 3 simple steps Door Handles LTD´s customers will be able to prevent unnecessary damage to their door handles and walls.
Find out more useful tips at http://www.doorhandlesltd.co.uk