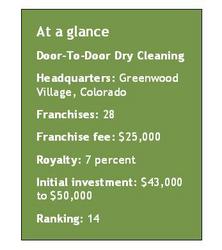 You only get one chance at a first impression
Englewood, CO (PRWEB) March 21, 2008
John Dame and his wife, Joey, were looking to start a business together a couple of years ago when they settled on dry cleaning. They looked at some franchises, but didn't like what they saw -- too many holes, John said, and not in the clothes, but in the way the businesses were operated.
So like entrepreneurs before them, they decided to start their own company.
That company, Door-To-Door Dry Cleaning, targets residential customers with a simple concept: The customer leaves their dry cleaning on the porch in the morning. A delivery person picks up the clothes, and at the same time, hangs any cleaned garments back on the door. More than 90 percent of the business is home-pick-up. "Honestly, how many people get dressed at work?" Dame said.
He envisions a company that is like the UPS for dry cleaning, with clean-cut delivery drivers in pressed uniforms and with no facial hair. "You only get one chance at a first impression," Dame said. "People love our appearance. They love the way we go about doing business."
The concept's simplicity is one of the reasons for its success, Dame said. As an almost strictly door-to-door dry cleaner, a franchisee does not need a storefront, and can get by in a home office with a van. That lowers the startup cost to as low as $40,000, and monthly overhead can be as low as $1,200. Profits, meanwhile, can run as high as 26 percent.
And there is room to grow. New franchisees can start out with a single van and a contract with a dry cleaning facility. They buy more vans as business grows. Over time, Dame said, he'd like franchisees to open their own cleaning facility. That's a costly venture, as constructing one can run up to $500,000. But that gives the franchise more control and boosts their profitability, especially because the franchisee can then contract to provide cleaning for other dry cleaners. That's a good step to take after the company has built a client base.
The concept's simplicity extends to the home office. As a dry cleaning business, the company doesn't have to deal with supply chain issues -- most business is conducted online, as is franchise support. There is a week of training in Colorado and again in the franchisee's location, and company officials make periodic visits to the units. Dame, his wife and three more workers handle that support, and he said the number of units could double before more staff would be necessary. "But we could take on extra staff as needed," he said.
The way this company is growing, that new staff could be necessary real soon.
To find out more about Door-To-Door Dry Cleaning, contact toll-free at: (877) 7MY-DOOR or visit them at: http://www.MyDoor.biz. You can also attend an upcoming seminar in one of these select cities:

March 29, 2008 - Chicago, Ill.
April 5, 2008 - Phoenix, Ariz.
April 12, 2008 - Dallas, Texas
April 19, 2008 - San Diego, Calif.
April 26, 2008 - Las Vegas, Nev.
May 3, 2008 - Houston, Texas
May 10, 2008 - Atlanta, Ga.
May 17, 2008 - Miami, Fla.
###