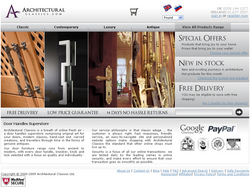 The new site is just another expression of that
(PRWeb UK) April 29, 2009
Architectural Classics, European door furniture superstore, have re-launched a new user-friendly, search enhanced version of their website. "Customers will find it much easier to locate what they want among our huge product range, and we've retained all of the great features of the previous site" said online marketing manager Voytec Murawski.
The main feature of the new site is a clear division of products into style ranges, as well as door furniture type. Where previously consumers could search only within the physical type of product (for example, door knobs, lever handles, finger plates, hinges, cupboard knobs etc), they can now also search primarily by one of four style ranges:

Classic
Contemporary
Luxury
Antique (genuine)
The previous category search ability is retained under 'View All Products Range' also.
"We've always considered ourselves a leading edge company, staying abreast of new trends and trying not to become stuck with old operational methods", said Niall McDonagh, the company's founder and managing director. "The new site is just another expression of that".
The new site will also see two new manufacturers added to the product range, Sietto and Linea Cali. Both of these manufacturers focus on glass door furniture, which, according to Mr McDonagh, "has been a real growth area and quite a fashion statement". Sietto manufactures handmade glass cabinet handles in a range of modern styles and textures, while Linea Cali has more of a classical European feel.
"We won't be adding every product from these manufacturers -- only the ones which add something to our already large range. Sietto has some fantastic postmodern pieces, and Linea Cali's look has a real vintage charm", said Mr Murawski.
Result filtering on the new site will be enhanced also. Where name and price sorting was enabled on the old site, customers can now search for products by their model to easily find matching pieces. This was previously only possible if the products were alphabetically adjacent.
Architectural Classics recently updated their logo, and the new site also reflects an enhanced appearance. Clearer text and a cleaner look now create an excellent backdrop for the quality products.
About Architectural Classics:
Architectural Classics supplies an enormous range of high-quality door handles, from genuine antiques to reproductions, to original pieces of door art.
They sell to a worldwide market through their online superstore, architecturalclassics.com. The company has been trading online since 2000, growing from a small team operation to an international venture. Customer service, privacy and security, artistic value, and marketing excellence are all part of the culture. Architectural Classics is an online retailer, with products from a diverse range of select suppliers in Europe and the Americas.
###