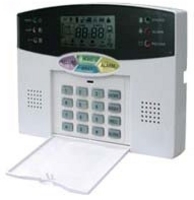 Best wireless alarm system
Clifton Heights, PA (PRWEB) May 15, 2010
Doorado just announced the availability of their new wireless alarm system MT-DFC-300
Basic Functions and technical characteristics
-Voice indication for operation.
-Support two-way communication, enable work with 8 dual-way wried keypad, 8 dual-way wireless keypad, 8 dual-way remote.
-support GSM and TCP/IP protocol,network alarm settings.
-Postposition concentration lead line for safety and preventing vandalism.
-24 wired/wireless programmable zones, 8 multi-function remote controllers.
-2 numbers for center monitoring station.
-4 programmable alarm receiving numbers.
-10 sec alarm address record.
-Wireless detector status real time monitoring;alarm wireless linkage output.
-4 groups programmable timing arm/disarm.
-User on-line status timing test for option.
-Arm/disarm message transmission is free for option.
-45 record events for checking.
###