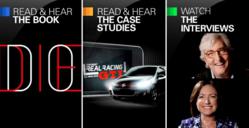 New York, New York (PRWEB) May 29, 2012
Clark Kokich, former CEO and current Chairman of Razorfish, one of the world's largest interactive agencies, today released e-reader versions of Do or Die, his book that delves into the challenges marketers are facing now that traditional advertising channels are often ignored. Previously only available through the Apple App Store, the book can now be accessed via Kindle and Nook platforms for $9.99.
Do or Die was the first full-length business book to be published as an iPad app. It infused the power of digital into the traditional book format, by featuring video interviews, live websites and Twitter feeds and easily shareable content.
About Razorfish
Razorfish, the highest ranked digital agency in Advertising Age's 2011 A-List, creates experiences that build businesses. As one of the largest interactive marketing and technology companies in the world, Razorfish helps its clients build better brands by delivering business results through customer experiences. Razorfish combines the best thought leadership of the consulting world with the leading capabilities of the marketing services industry to support our clients' business needs, such as launching new products, repositioning a brand or participating in the social world. Razorfish has offices in markets across the United States, and in Australia, Brazil, China, France, Germany, Japan, and the United Kingdom. Clients include Mercedes, Unilever, and McDonald's. With sister agencies Starcom MediaVest, ZenithOptimedia, Denuo and Digitas, Razorfish is part of Publicis Groupe's (Euronext Paris: FR0000130577) VivaKi, a global digital knowledge and resource center. Visit http://www.razorfish.com for more information. Follow Razorfish on Twitter at @razorfish.